So the fact that glaciers are melting means nothing.
Chamonix's glaciers have disappeared. I remember watching how the glacier that the Olympics were held on in 72 I think if I remember are gone.
Yes it could be just a phase. Like how England's phase of pollution caused problems there.
All in all, I remember winters differently. I remember colder, I remember more consistent snow. I also remember years with little snow.
While I don't think that in itself in indicative, I do believe the wild swings are. Again, we have had 3 x 100 year floods in a couple of years. Those types of floods were literally once per hundred.
I guess the ozone depletion at the poles is nothing also.
Yes that is measured. But your right there is no .. .absolutely no proof ...
I don't believe in hysteria, but I do believe that this earth while huge can only absorb so much toxicity. Millions of years ago these toxins were at the surface. But the earth transformed. We in a 100 years have reversed many millions of years. Add to that natural occurring phenomena, and we have put a load on the atmosphere and it is saying , hey , I can't convert this crap. Add the loss of forests, first in Europe centuries ago, now in the Americas, and our ability to filter or turn the toxins around is diminished. The way the forests are being burned in the southern hemisphere just adds to the problem.
Keep believing what you want. You sound like the guys that believed the tobacco companies. I had worked for companies that lied so badly, I don't trust most. I know what they do, and how far they are willing to go. My first dose of it came in the aviation and space industry. Later in the Pharma. Trust the oil companies? Not on your life. Remember the phony oil crisis? Remember the tobacco guys. Cigs don't cause lung cancer. Fracking, it doesn't hurt the water supply. Why did GW relax the clean water act for those guys then?
I guess it depends on which side you want to stand on. But I'd like to leave my son a world that has a chance. If you are wrong, he won't have that chance. If I am wrong, I did nothing wrong, and was a good steward. If your wrong you couldn't give a rats ass you'll be dead.
I think that we can survive and prosper with proper conservation. Certainly all our plastics are not necessary. We survived many years without the packaging we do now in the stores. Our garbage is out of control...
Lew maybe the extreme zealot, but everyone should consider that it is a real possibility. If you are wrong and thought it not happening your actions may be irreversible. If you believed and did what you could and were wrong, what harm did you do to?
Take __some responsibility__ and think that it is possible, and I should do more to lessen my footprint.
On 7/1/2012 1:26 PM, CW wrote:


On 7/1/2012 2:04 PM, tiredofspam wrote:

Simple fact, that is what has been happening since the ice age. And those glaciers that are melting happen to be situated over a line of volcanoes. What is under the glaciers is warmer than what is on top.

posted on July 1, 2012, 11:19 pm
On 7/1/2012 12:26 PM, CW wrote:

Al Gore sends lots of KoolAid To California

posted on July 2, 2012, 1:47 am
"Puckdropper" wrote:

---------------------------------------- Core samples have documented a thermal foot print that goes back several hundred years.
The last 10 years have shown a continuing increase in annual temperatures.
Lew

posted on July 1, 2012, 4:14 am
On 6/30/2012 9:18 PM, Lew Hodgett wrote:
it was hotter the entire year of 1934. Fuck your global warming that is a farce.
--
Steve Barker
remove the "not" from my address to email

Click to see the full signature.
posted on July 2, 2012, 1:34 am
On Sat, 30 Jun 2012 23:14:52 -0500, Steve Barker
Not true.
1934 was the third warmest year in the U.S. but only ranks 48th warmest globally.
2012 from Jan. to May ranks the 10th warmest with May ranking the 2nd warmest May globally. We'll have to see how the year finishes.
Globally, the 20 warmest years have all occurred since 1987. The temps are gathered from world wide weather service records, include land and ocean temps with the mean being averaged between 1901 and 2000.
Mike

posted on July 2, 2012, 1:58 am
On 7/1/2012 9:34 PM, Mike O. wrote:

When we talk of global warming we are talking the whole earth not just a few insignificantly few square miles of the tens or thousands of square miles on earth surface. So it may be 105 here but that has nothing to do with global warming.
I snicker every time I see someone telling me the the total earth's atmosphere has changing 0.2 degree F when the temperature range on the earth surface varies over 100 degree from one end of the earth to the other on any given hour of the day.
OR when the global warming "scientist" say that global warming has raised the sea level on one side of the Atlantic and not the other by 2mm, when the oceans changes 1000 mm on the average with every tide change. I see the water raise on one side of the bowl and not the other every time I get a drink.
OR when they tell me the pH of the ocean has changed less the the accuracy of the pH standards they use in make the measurements.
If they took these "statistical" analysis to generate these numbers to the FDA for the approval of a drug they would be laughed out of the building.
With it so hot there have been days with NO air movement. ( Windmills need steady 12 mph winds to operate. The bigger they are the higher the wind speed.) I am sure the windmills provided a lot of supplemental electricity to assist the conventional and nuclear plant on these days when every ones air conditioners were at a maximum.

posted on July 2, 2012, 9:55 pm

=======================================The reason it does not make sense to you is that you are looking at it all wrong. Real science, logic and reason have no place in any conversation about global warming. Now, throw all that out and say 15 hail Al Gores as penence.


posted on July 2, 2012, 2:24 am
4ax.com:

Oddly enough, they've all occurred since the collapse of the Soviet Union -- and the consequent shutdown of a large number of temperature monitoring stations in one of the coldest parts of the world, because the Russians could no longer afford to maintain them.
Ya think that might skew the average a bit higher?

posted on July 2, 2012, 11:54 am
wrote in
I'd hope that they use a correction factor for that of some kind. OTOH, when my parents moved their last time, in 1947, the street was dirt, as were many of the adjoining streets, however small their number was. Since, the streets have all been blacktopped, and widened. Moreover the surface area of paved roads in Holland has probably been increased 10-20 fold if not more. Somewhere there ought to be statistics on that. When you pave dirt with blacktop, build housing (read roofs), you probably increase the heat retention of those surface several fold. That same process has occurred throughout the world. Nowadays every family has 2 cars, where they used to have a few bicycles. Almost everyone now has A/C, which doesn't use up heat, but produces it. Reminder: In 1976 almost no subway cars in New York City had A/C. Now they all do - ergo lots of net heat production. All that without invoking green house gases. Add those to the mix, and it is no wonder that things on average over the whole world are getting warmer. Yes, Earth's climate has in the geological past gotten warmer and colder, even in historical scales. But please, PLEASE, do understand that we are affecting things ON TOP OF NORMAL CLIMATE changes.
As far as sea level changes are concerned, perhaps you don't care now that sea levels are increasing. Rest assured that much planning and preparing is going on in Holland, where half the country would be inundated if all the current sea-defenses were inoperable. Ask London City government whether they like another 1953.
--
Best regards
Han
email address is invalid

Click to see the full signature.
posted on July 2, 2012, 11:04 pm
I wouldn't. I'd hope they would drop those stations from the earlier calculations too.
I don't trust this bunch
*at all*
to apply a correction factor honestly -- remember that they've already been caught at least once applying "correction factors" when the actual data didn't support their preordained conclusions.
There are; see http://www.surfacestations.org/ .
That's correct. And when temperature monitoring stations are right next to blacktop surfaces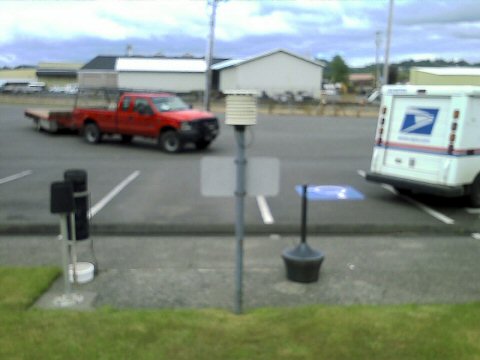 http://www.surfacestations.org/images/Aberdeen_WA_450008_rear.jpg
or next to a burn barrel
http://www.norcalblogs.com/watts/images/Tahoe_city3.JPG
or next to other heat sources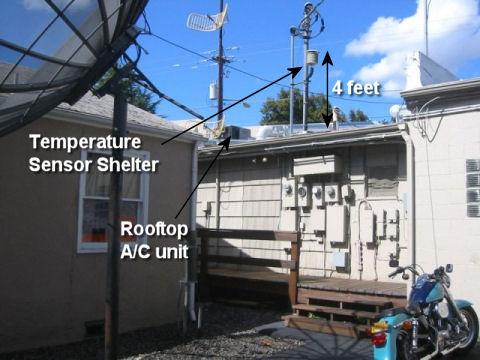 http://www.surfacestations.org/images/Roseburg_OR_USHCN.jpg
then one might legitimately wonder just how accurate those measurements are.
posted on July 3, 2012, 12:07 pm
On 7/2/2012 6:54 AM, Han wrote:

Look at the earth from the moon. Can you see any of the direct physical structures or constructions "changes by man". Noooo.
Can you see the land and sea? yes
Can you now see how insignificant we are to the whole picture?


posted on July 3, 2012, 2:18 pm
wrote in
I bet you could see the reduction in ice.
--
Best regards
Han
email address is invalid

Click to see the full signature.
posted on July 3, 2012, 2:36 pm
On 7/3/2012 9:18 AM, Han wrote:

I bet you can see that Antarctica and grown significantly more that the loss of ice of all other areas combined.

posted on July 3, 2012, 2:43 pm

There is no reduction in ice. There is a reapportioning of ice. When it leaves one place, it finds another home. When one area warms, another cools to even things out. It's what Mother Nature does.
-- Tomorrow is the most important thing in life. Comes into us at midnight very clean. It's perfect when it arrives and it puts itself in our hands. It hopes we've learned something from yesterday. -- John Wayne

posted on July 2, 2012, 1:07 pm
On 7/1/2012 9:24 PM, Doug Miller wrote:

And none of the doomsdayers seem to factor in the that Antarctica is growing by leaps and bounds.

posted on July 2, 2012, 3:35 pm
wrote:

No, they only see that little ice shelf breaking off and cry wolf. They see the glaciers receding but don't pay attention to others which have grown and expanded. They're in their own little world, and God help anyone who tries to point them in a logical direction.
-- If you're trying to take a roomful of people by surprise, it's a lot easier to hit your targets if you don't yell going through the door. -- Lois McMaster Bujold