On Wed, 24 Apr 2013 07:20:39 -0700 snipped-for-privacy@optonline.net wrote:
Hmmmmmm.... yes there is a control box very close nearby. Here it is, circled, in yellow: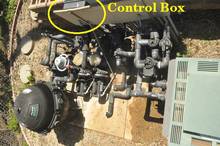 But, I have a secondary reason for wanting to put a junction box on the concrete next to the motor (if that meets code).
The installers didn't add a single inch of unnecessary wire!
So, when I remove the motor for bearing replacement, it's ridiculously tough to unroute the thick copper wires, disconnect them from the motor, and then reroute & reconnect them back when I'm done.
Basically, the only way to do it, since there is a tight 90 degree elbow right at the motor itself, is to spin the heavy motor to tighten that elbow. It's ridiculously hard!
So, by adding the following, it would make pump removal easy: 1. Add a union at the inlet and outlet pipes of the pump 2. Add a junction box for the very thick 220v wires
The key thing is that I have to be safe with the wiring because there is a lot of water and ground lying around. :)

Yes, you can do that if you wish. Use a waterproof junction box.

Alternatively you could just replace the conduit and wires with longer ones that would have some slack so it's not as difficult.

That part I don't get. Normally the conduit connector goes into the motor and is held in place by a nut, no?

Technically, if you want to be 100% code compliant, since you're moving the motors and rewiring the circuit, it should be on a circuit with a GFCI breaker.

posted on April 24, 2013, 8:00 pm

quick

a 1"

to

d needs

Maybe. If the outside of the pool strainer is perfectly round where the pipe goes in and if there is enough of something there so you can get the hose on it. And if you can find a hose of the right diameter.

posted on April 24, 2013, 11:28 pm
wrote:

a quick

n a 1"

e to

end needs

I read your method again and I got it wrong the first time. What you're actually suggesting is to use a piece of hose and make it into a Fernco that you use to connect the two pieces of pipe back together. That would work for one connection, but on the other strainer, it's all elbows, he has no pipe to work with.

posted on April 25, 2013, 2:28 pm

Did you look at the picture? It's all elbows on the second pump. How do you put hose over elbows and seal it? Geeez... And on the other pump, where a hose patch over *might* work, you have to cut it apart even to put a hose over it. At that point, why wouldn't one just do it the normal way using PVC?

posted on May 25, 2013, 6:17 am
On Thu, 25 Apr 2013 07:14:55 -0700, Bob F wrote:

What I ended up doing was cutting off or removing all the old plumbing up to the very edge of the Jandy valve.
Then I put an oversized PVC 2.5" coupling on the outside of that Jandy valve (which means it was three layers thick at that point).
I stepped down the 2.5" coupling with a bushing, making it 2" again.
From there, it was all 'normal' plumbing - and the results are that it did not leak during the leak test.

posted on April 24, 2013, 1:44 pm
On Wed, 24 Apr 2013 04:58:20 -0700 snipped-for-privacy@optonline.net wrote:

Exactly the dilemma why it isn't worth thousands of dollars to fix.
They leak only when the pumps are turned off.
I put in about 500 gallons every few days, unless I manually turn all the Jandy valves off. (I have an Ace Hardware water flow valve that I manually set to 500 gallons which is about an inch of water.)
The water is cheap; the pool chemicals aren't. Plus, I can't have the pool on automatic if I turn off the valves.

posted on April 24, 2013, 2:28 am
Is it leaking at thread, or is the housing cracked? . Christopher A. Young Learn more about Jesus www.lds.org . .
There is no doubt my filter & cleaner pool pumps are both leaking copiously at the inlet as shown below (mostly when the pumps are off):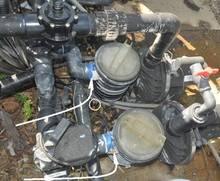 Up until now, I've been trying the "miracle in a tube" solution - but it's really not working to plug and glue and stop up the leaks.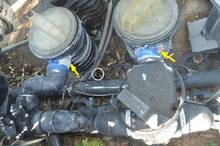 The problem is that the plumbing is pressed fitting to fitting, with 7 Jandy valves all pressed together, within a foot with nary a pipe in between: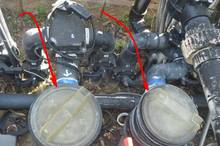 Is there a magic fitting that I can slip into the inlet that will fix this incessant leak without having to replace the pumps & Jandy valves?
posted on April 24, 2013, 4:45 am
On Tue, 23 Apr 2013 22:28:01 -0400 Stormin Mormon wrote:

I don't know. But I think it's coming out at the threads.