On Wed, 24 Apr 2013 07:20:39 -0700 snipped-for-privacy@optonline.net wrote:
Hmmmmmm.... yes there is a control box very close nearby. Here it is, circled, in yellow: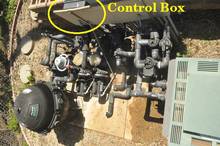 But, I have a secondary reason for wanting to put a junction box on the concrete next to the motor (if that meets code).
The installers didn't add a single inch of unnecessary wire!
So, when I remove the motor for bearing replacement, it's ridiculously tough to unroute the thick copper wires, disconnect them from the motor, and then reroute & reconnect them back when I'm done.
Basically, the only way to do it, since there is a tight 90 degree elbow right at the motor itself, is to spin the heavy motor to tighten that elbow. It's ridiculously hard!
So, by adding the following, it would make pump removal easy: 1. Add a union at the inlet and outlet pipes of the pump 2. Add a junction box for the very thick 220v wires
The key thing is that I have to be safe with the wiring because there is a lot of water and ground lying around. :)