On Sat, 27 Apr 2013 07:52:27 -0700 Oren wrote:

SATURDAY UPDATE:
After looking in vain at all the big box stores today, I think I really should strongly consider one of those fittings above (but I'm not sure which one is the one I need).
In addition to not finding the special fittings, I also could not find the special 2" boring tools at the big box stores.
I did pick up a few of all the standard 2 inch couplings and elbows and pipe though:
And, I bought this tool for cutting 2" PVC pipe:
And, since I couldn't find the 2-inch boring tool at the box stores, I made this 2" pipe thread tap:
I plan on moving both pumps back, but first, to line up my ducks, I may need to buy this 2" boring tool: http://www.plumbingsupply.com/pvcsaver.html
And/or this special fitting to go OVER the Jandy valve outlet: http://insertfittings.com/catalog/index.php?cPathx
Or, that special 2-inch fitting extender to go INSIDE the Jandy valve outlet (which already has a 2" pipe glued to it): http://flexpvc.com/cart/agora.cgi?product=PVC-Fitting-Extenders
In addition, today, at Home Depot, the guy helping me cut down a 2" nipple and then I sawed two crosscuts to make a crude 2" tap, just in case I end up screwing a coupling into the Jandy valve:


I wouldn't expect them to have special tools like that. Did you try a plumbing supply?

That's nice to have and easier to use, but if you want to save a few bucks for small jobs like this a hacksaw and file can be used.

I have no idea what you intend to do with that.

The first thing you need to figure out is IF the Jandy valve is designed for a pipe to go over it. Have you pulled up a data sheet? Or cut it apart and find out if a standard PVC fitting is sized to go over it. Real simple, either the outside of that valve is designed and sized to mate with a PVC pipe of a std size or it's not. At least some pool valves are designed that way.

I don't even understand what I'm looking at in those pics. First contrary to what you say above, the first link clearly says it's designed to go OVER a 2" fitting, not inside it. But if you look at the pic, from the relative sizes and what is there, it sure looks like it goes inside. If it goes inside, then what good is it? You could just use pipe.
The second link is to a fitting that goes OVER the 2" pipe. I don't know why you'd need that because if the valve will take a pipe or fitting over it, then you can find the appropriate pipe/fittings at HD, Lowes, etc. If you have a special fitting that really goes inside a 2" PIPE, then I see how THAT could be used to go inside the pipe that's left glued inside the Jandy valve.

The valve is a female glued fitting. That is why you were looking for the special boring tool. I don't know why you're wasting time off in lala land....

posted on April 30, 2013, 4:48 am
UPDATE:
No matter how many plumbing or irrigation supply places I visited in San Jose today, I couldn't find this simple 2.5" to 2" reducer:
So I picked up a standard 2.5" coupling + a bushing:
And I cut the 90 degree elbows off the Jandy valve:
The 2.5" coupler and bushing should fit perfectly:
I think I'll move the motor back and to the right a bit:
I put the pump in a vise and easily spun off the inlet fitting:
I'm not sure if the new bushing takes pipe dope or not?
I think I bought the wrong electrical box, because the 1"-to-1/2" elbow was connected to a one-inch conduit but I seem to have bought a 3/4" conduit box.
Tomorrow I should wire it up - but I'm confused about the following:
Q1: Do we use pipe dope on the pump threads? (What kind?) Q2: What gauge do you think the electrical wire is? Q3: If I buy a 1" box, can I hook both pumps to the same box? (i.e., two conduits in, and two conduits out, each a separate line) Q4: How do we tie the lines together at the box (wire nuts)?
Note: I've never done 220V wiring before.

posted on April 30, 2013, 12:53 pm

I'd use teflon tape on the threads. That's what I always use, but I think pipe dope is OK too.

You can use 12 gauge. The wire coming out of the motor is probably smaller than that. The pump only draws about 8 amps.

I don't know what you mean by 1" box? One that has 1" knockouts? In any case, you can put all the wiring in one box, provided it's of sufficient size for the number and size of conductors you're using. The box you have looks large enough.

Yes.

If it were me, as I said before, I would forget about the added splice box and just replace the short lengths of liquidtight conduit and wire back to the timer box with new runs. IMO, it's easier, faster, looks better, etc. You said the splices would make the motors easier to remove in the future, but I don't see why. Those existing wires came right off the pump motor, didn't they?
Good to see the project is going well and you didn't find any unexpected problems....

posted on April 30, 2013, 2:34 pm
On Tue, 30 Apr 2013 05:53:37 -0700 snipped-for-privacy@optonline.net wrote:
I have teflon tape, and these two pipe "dopes":
- The tube says "slow setting" - The can says "slow dry" & "soft set"
Other than the teflon tape, is there such a thing as "non setting" pipe dope?
posted on April 30, 2013, 3:54 pm
On Tue, 30 Apr 2013 07:48:10 -0700 Oren wrote:
Thanks Oren for looking that up. I'll see if I can get that at Home Depot this morning.
Here's what I have in stock, at the moment: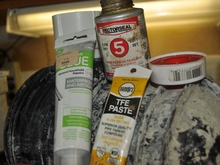 I added that white silicone glue to the pic mix after calling Sky Blue Pools who said that they use "Plumbers Silicone Sealant" at about $7 per tube; and after calling Ernie's Pool Supply, who said they had two kinds, "Join Stick" and "White Silicone".
If their white silicone is the same as mine in that photo above, I probably have enough. But I'll look at HD today for the Tru-Blu because it seems to be the right stuff from your description (plus, you know huckleberries!).
posted on April 30, 2013, 4:05 pm

Regular pipe dope, the grey stuff, is what I would call non-setting. It dries out over time, but it doesn't harden and stick like the hardening versions of say Permatex.
I would just use teflon tape

posted on April 30, 2013, 4:06 pm
On Tue, 30 Apr 2013 05:53:37 -0700 snipped-for-privacy@optonline.net wrote:
The entire setup is problematic and verrrrrry frustrating!
Half the time I can't even get to the wires inside the motor simply because the covers are frozen rusted on!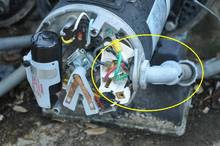 Here you see my last 3 (failed) attempts at removing the cover!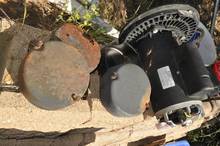 The other half the time, the cover comes off, but that super frustrating 90 degree 1" to 1/2" elbow requires you to spin the entire motor just to get the darn thing off!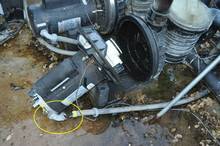 I'm running off to Home Depot now ... does this look like a decent supply list for the electrical connections?
A. 3 feet of ½" conduit <== currently it's all 1" conduit B. A straight ½" to ½" fitting <== currently it's a ½ to 3/4" C. 3 feet of 12 AWG stranded copper wire (black, red, and green) D. A double-wide junction box with ½" holes (mine has 3/4 inch holes) E. Wire nuts for 23AWG stranded wire (mine are stranded of unknown AWG)