On Thu, 02 May 2013 10:14:52 -0700, snipped-for-privacy@optonline.net wrote:

Yup. Already been done.
All three of those motors have already been replaced, so, they've just been sitting outside, as spare parts or whatever (hate to throw away something that _might_ be useful some day).

I never understood dual-speed motors. All the filter pump does is filter. All the cleaner pump does is feed the pop ups in the bottom of the pool.
Why would I ever want to change the speed of that?
And, if I do want a slower speed, why didn't they make the motors at the desired speed in the first place?


y

Because the amount of electricity used by the pump goes up by like the cube of the flow rate. So, you can run the pump for twice as long at half the rate, move the same amount of water, and use a lot less electricity. The only pump you could make dual speed would be the filter pump.

Because the motors cost a little more, you have to run one more wire, need an addional switch, electricity used to be a lot less expensive, etc. But now I understand that in some states, there are laws requiring the use of dual or variable speed for new installations.

posted on May 2, 2013, 5:53 pm
On Thu, 02 May 2013 10:36:22 -0700, Oren wrote:
Exactly. Those are my old filter, cleaner, and spa jet motors. I took them apart, with the hopes of fixing them; but I learned that the time to make the bolts easier to remove is BEFORE the motor goes bad! Like now, when I have a 1-year old motor in my hands.
BTW, tonight I hope to assemble everything so I'm agonizing over where exactly to put the two pumps.
One question I have is about this silly looking red valve: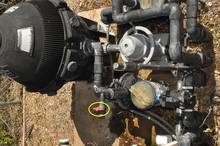 ]
I'm sure it's a drain of some sort, probably for the cloth cartridge filter thing - but I've never used it. It's not threaded, so nothing goes on the other end. I can easily drain the filters simply by removing the pump basket cover, since the equipment is 8 feet below waterline, I can drain the entire pool from the pump basket, if I
_really_
want to.
Do you have any idea what this red drain is for? If so, would you replace it or eliminate it when moving the pumps back?
posted on May 2, 2013, 6:32 pm

.

Oh, I didn't know you had your own scrap yard too.....

No idea. Don't see any use for it and I would eliminate it.

posted on May 2, 2013, 5:46 pm
On Thu, 02 May 2013 10:09:56 -0700, chaniarts wrote:

They are only threaded on the last inch.

posted on April 30, 2013, 1:49 pm
On 4/29/2013 9:48 PM, Danny D. wrote:

Did you call Ewing? It's not in their catalog but they might have it.
<http://www.ewing1.com/general/ews_locationmap.html?branch 6>

posted on April 30, 2013, 3:00 pm
On Tue, 30 Apr 2013 06:49:18 -0700 sms wrote:

Funny you should mention Ewing!
RV Cloud Plumbing Supply, apparently just around the corner from Ewing, had recommended them yesterday; but I couldn't find their location while driving based on RV Cloud's directions.
I ended up asking someone on the street, who directed me to Lane Irrigation instead, apparently only a few hundred yards from Ewing, where I ended up buying the coupling and bushing.
After reading your message just now, I called Ewing up this morning; I talked to Paul who says that they have the exact 2.5 inch to 2 inch coupling that I want, and, it's less than 3 bucks to boot!
Sheeesh!
Now why didn't I listen to you (and Oren) earlier! I'll head down today to pick them up!
Note: Apparently the one-piece fitting is not "to code" (while the two-piece coupling + bushing is); but should it matter to me if they're to code or not?

posted on April 30, 2013, 4:31 pm
On Tue, 30 Apr 2013 09:20:27 -0700 SMS wrote:

I'm thinking that it's two joints to go bad, instead of just one.

posted on April 30, 2013, 4:37 pm

Yeah, that's true. But properly done, the probability of a PVC joint leaking is extremely low. I can't think of a single one I've done that has leaked. The alternative, wasting God knows how much time looking for a fitting that avoids one more joint doesn't seem very appealing.

posted on May 2, 2013, 12:58 am
On Tue, 30 Apr 2013 09:37:41 -0700 snipped-for-privacy@optonline.net wrote:

Turns out the Ewing fitting was EXACTLY the same as Home Depot. So I had wasted a trip.
Luckily, I stopped off to talk to Bob, at Swimco, just around the corner. That guy will talk your ear off (I love him!) with that gravelly voice - but boy oh boy - does he KNOW motors!

posted on June 18, 2013, 3:17 am
On Thu, 02 May 2013 00:58:52 +0000, Danny D. wrote:
Thanks for all your help!
You were all very helpful in advising me on how best to complete the repair of the incessant pool pump leak.
Here's a pic of the final result of the plumbing & electrical fixes: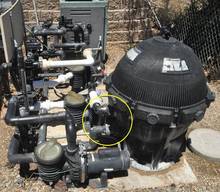 There's only a drip at the filter - and nowhere else!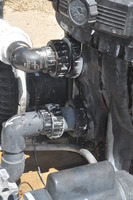 Here's a video I made for you of all pumps running without leaking:
http://youtu.be/1MfbNxtVT4Y
http://youtu.be/1MfbNxtVT4Y
The only thing left is to source those two proprietary filter fittings.
Lessons learned? a. I should have repaired these pump leaks long ago b. I should have replaced the conduit elbow at the motors with a straight through fitting c. I should NOT have put in that junction box d. I should have wired the new conduit from the motor to the panel e. I should have replaced
*all*
the plumbing, up to and including the proprietary connectors at the filter itself
posted on April 30, 2013, 3:22 pm
On Tue, 30 Apr 2013 07:38:14 -0700 Oren wrote:
You're totally right because I was the one who tried the blue stuff a year or two ago to stop the leak.
Needless to say, it didn't work.
Interestingly, the blue PVC glue didn't really stick at all to the (probably ABS) black pump plastic. It flaked off easily - and you can see it didn't penetrate to the fitting threads in this closeup photo which was taken before I flaked cleaned it off the fitting.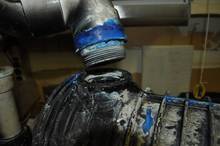 I called Sky Blue Pool Supply, who suggested "Plumbers Silicone" at $7/tube as the pipe dope for the fitting.
Googling for what that really is, I find a confusing array of plumbers caulk/putty/sealant/grease/silicone terms. http://www.plumbersputtypro.com/plumbers-putty-vs-silicone-caulk/
I called The Pool Guys, in Saratoga, but they weren't open yet. I'll try Leslie's when they open at 10am but you never know what you'll get from them.
posted on April 30, 2013, 4:13 pm
On Tue, 30 Apr 2013 09:08:24 -0700 Oren wrote:

Linking to the toilet-bowl cleaning thread, I'm actually considering dumping the entire pump in a pool of muriatic acid - but I'm plumb out of it at the moment.
I'll pick up four more gallons today of the HCl.
What do you think of me dumping the pool pump in it? I don't see any metal in the pump body.

posted on April 30, 2013, 4:38 pm

I'm considering dumping you in there.....

posted on April 30, 2013, 4:45 pm
On Tue, 30 Apr 2013 09:38:57 -0700 snipped-for-privacy@optonline.net wrote:

I promise I'll wear gloves (nitrile!).
:)

posted on May 3, 2013, 8:34 pm
On Tue, 23 Apr 2013 19:23:54 +0000, Danny D. wrote:
UPDATE: Yesterday, in the hour left between arriving home and mosquito darkness I tried to cut the pipes using my new pipe-cutting tool, but it broke on the very first attempt:
" target="_images" rel="nofollow">
">
So I hacksawed the outlet of the filter pump at the elbow: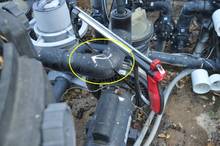 " target="_images" rel="nofollow">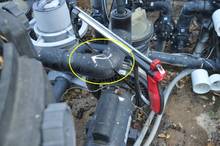 ">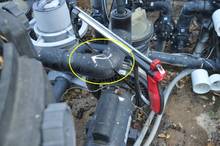 And, I hacksawed the inlet of the filter pump at the midway point: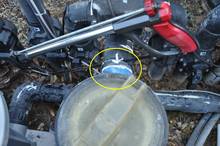 " target="_images" rel="nofollow">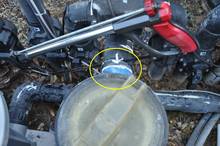 ">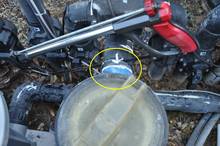 Removing the wires from the wiring conduit elbow was problematic: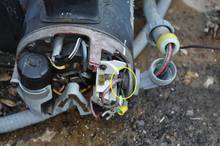 " target="_images" rel="nofollow">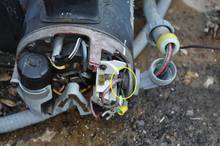 ">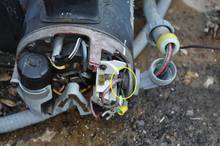 Crazily twisted and cracked 10AWG wires are always the result: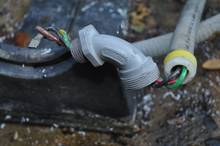 " target="_images" rel="nofollow">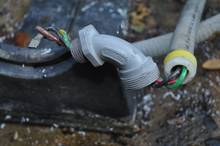 ">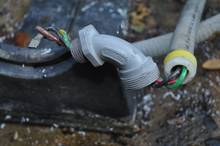 By nightfall, I finally had the room to repair the leaks and relocate both the filter pump and the cleaner pump and figure out where to put the pipes so that I can more easily maintain the equipment yet not to introduce too many additional bends (some day I'll convert the whole thing to curves):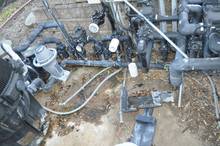 " target="_images" rel="nofollow">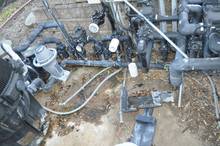 ">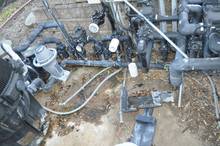 Surprise!
When I sliced the pipe at the Jandy valve of the filter pump a bit closer, I realize there was thick (schedule 200?) gray pipe: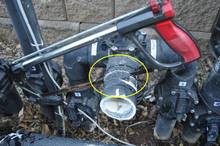 " target="_images" rel="nofollow">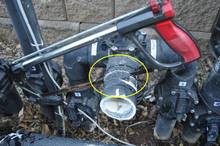 ">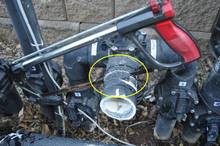 I called the pool guys who said that their service men use that gray schedule 200 because it's thicker and stronger than PVC schedule 40.
Do you know if there is any truth to that statement which implies I shouldn't use white PVC schedule 40 at the pumps because it heats up and is more brittle than the gray thicker schedule 200???
Anyway, this thick gray schedule 200 pipe should probably be bored out; but I don't have the boring tool: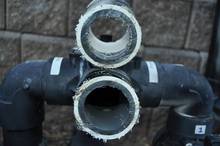 " target="_images" rel="nofollow">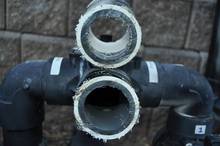 ">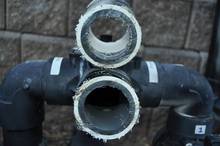 I called up Jandy (now Zodiac) at 800-822-7933x1x5x, and spoke to their technical support, and pointed them to this thread. They said they don't sell the boring tool, and, that the 2.5" coupling should work.
Back at the now-removed pump, I was worried the filter pump inlet threaded coupling would be glued in from all the repairs - but it spun out easily with an oil filter wrench, of all things: