On Wed, 01 May 2013 07:33:16 -0700 Oren wrote:
Thanks for doublechecking for me.
I'm not sure if I was supposed to get stranded, but, the existing wire is apparently 10AWG stranded - so that's why I got the same for the extension wire.
Here's a shot of the existing wires I took just now: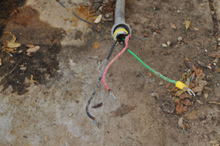 You'll notice that I need to cut off about 6 inches because they're all busted up from spinning the motor and tugging them through the tiny restriction of the 1/2 inch to 1 inch elbow.
You'll see that the darn wires, with the connectors crimped on, do not fit in the half-inch elbow easily - but that's the size of the pump opening - so not much can be done about it I guess.
Thanks for doublechecking as I've never done 220 volt wiring before - and this is the largest diameter wire I've ever done.
Here's a closeup of the package I just snapped to clarify: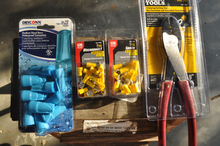 It "says": 20AWG to 10AWG, Medium Direct Bury Waterproof Connectors
Of course, I could have gotten just regular wire nuts; but I figured these were better (what I really expected was that there was some kind of bolted down connection sort of like there is in a fuse panel).
Ah, thanks for asking as I hadn't mentioned it, but, you actually noticed it's not there.
I appreciate that you're thinking of what's to come!
Since I'm not sure where the pumps will actually end up, I figured I'd get that solid wire last since it's not a "functional" requirement. (Yes, I know, it's a safety requirement - so what I'll do is clamp to the existing bonding wire when testing or more likely - I'll run with the dark horses & just stay a few feet away while testing.)