UPDATE:
The pool is filling (I decided NOT to wash it this time because the plaster was sitting dry for far too long).
Next time I'll be ready to wash it now that I know the gray is the plaster, the pretty blue is a copper stain, and the scratchy white is calcium grains due to lousy pool chemistry.
Maybe with better pool chemistry, I can actually get rid of the sandy white calcium and pretty blue stain over time without having to re-drain the pool!
Here's a shot of the pool filling up ...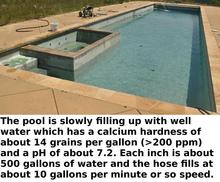 Here's one of the repaired pipes with the new Jandy valve: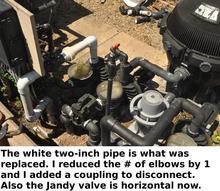 And, here's a closeup of the re-routing of the pipes: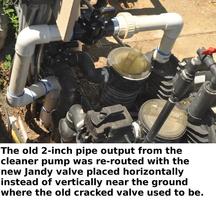 I'm not a plumber - I just DIY with your help ... so if you have any final advice on the repair ... let me know so I learn for the 'next' time.
I can't start it up yet (water needs to be at the level of the skimmers) so I won't know if the screw-tight coupling will hold the pressure (50 psi?) coming out of the cleaner pump or not.