On Mon, 13 May 2013 06:31:45 -0700, snipped-for-privacy@optonline.net wrote:
I understand.
If it leaks, I'll replace that part of the plumbing, since, with the unions, everything should be easy.
If it's any consolation, that unused "yellowed" union is, in fact, the same age and batch as the existing "blackened" union is.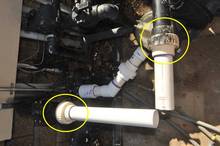 To explain further, about a year or so ago, I had replaced a broken Jandy valve after draining the pool, and at that time, I added the one now-blackened union on the outlet of the pump. I knew that a union only on the outlet pipe without a union on the inlet pipe was useless, but I was adding it knowing that someday (like yesterday) I would be adding a union to the inlet side of the pump.
I had bought two unions at the time, so I left the unused union outside in a plastic bucket. Over time, that unused union yellowed.
So, the good news is that the unions are 'matched' in time and batch; the bad news is that one sat outside in the hot sun for a year.
I'll let you know if it leaks; but if it does, it will be easy to replace, since the hard part was always the inlet side, and not the outlet side.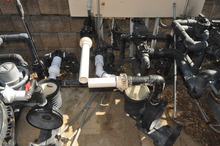 Note: If it wasn't easy to replace, you can rest assured I would have used all new equipment!