On Wed, 09 May 2012 16:07:44 -0700, SMS wrote:
Thanks for sticking with me.
The pool is only ten years old so it probably has never been replastered or repainted.
I'm still so confused WHAT my pool is made out of.
What I see are three things: a) Gray stuff, smooth, and in the small pits are mica crystals b) Blue stuff, maybe it's paint ... maybe it's copper coatings from the (dark blue) algaecide. Whatever it is, it's paper thin. c) White sandy stuff ... this is probably calcium since it bubbled greatly in the acid
The wierd thing is I don't see plaster anywhere (if plaster is defined as white stuff). A) Maybe the gray is the plaster? Or is it the gunnite itself? It seems to be smooth to the edge of the tile whereas I expected a half inch of plaster before hitting gunnite. B) Maybe the blue is paint? Or is it a copper coating? I can't flake it off, it's that thin. C) The white is probably calcium as it scrapes off relatively easily. Maybe it's dead algae but it bubbles in hydrocloric acid.
I think I'll open a separate thread, and add a pool-related newsgroup (dunno any offhand though) as to what the pool is made out of.
Here are some closeups ...
1. This is the white sandy coating that bubbles in acid:
2. This is the blue thin coating (either paint or copper deposits?)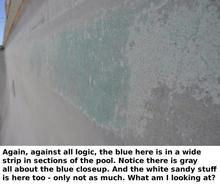 3. And this is the gray underneath all that: