On Sun, 06 May 2012 13:15:47 -0500, inspections wrote:
Here's a better picture of the coating, I just took today: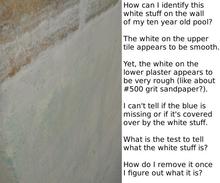 The white part by the upper tile is soft and smooth. The white part by the lower plaster is rough and sandpapery.
I can't tell what the white stuff is. If it's calcium, I've read that acid washing isn't really for that (acid washing is to remove a thin layer of plaster for refinishing or painting).
Also, the blue splotches are confusing me. I can't tell if the white is covering the blue or if the blue has flaked off revealing white.
Can someone look at these pictures and give me advice as to what's happening with the blue paint?