On Sun, 06 May 2012 15:56:18 -0500, gonjah wrote:
Nope. The skimmers (both of them) are wholly unfiltered!
Other than the skimmer basket and pump basket, anything sucked up by the skimmer goes right BACK into the pool! I know. It's weird. IMHO, it's stupid - but that's the way Lifetime and Paramount build pools.
Here's a brochure describing the Paramount PCC2000 "self-cleaning" pool system: http://www.1paramount.com/products/pcc /
Basically, the skimmers only skim the huge stuff. Everything else goes back into the pool, unfiltered so that the dozen rotating pop-up heads push the crud to the deep end of the pool.
Once at the deep end, it's soooo steep (45 degrees!) that the crud can't get back out. The filter pump pulls the crud from the bottom of the deep end and that is the only filtered water.
Here's a picture of the shallow end leading to the deep end. http://picturepush.com/public/8203391
And, here's a picture of me failing to remove one of the pop up cleaner heads: http://picturepush.com/public/8203134
I can't seem to understand HOW these things remove, even taking into account the special tool and the fact they're reverse threaded.
Here's a picture of the two cleaner heads that control the dozen pop up rotating spray cleaners: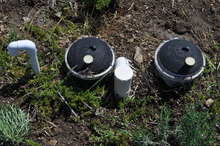 In theory, it should keep the pool clean - but in reality, it stinks.
The problem is there is no way to hook up a vacuum that I can figure out as the vacuum hooked to the skimmers simply blows the crud right back into the pool via the pop up cleaner heads!