Following up on the crud on my pool walls, I called a water softener company over who arrived today to give me a $6,000 quote to put in a water softener system in my garage. http://www.kinetico.com/assets/pdf/PDS_KineticoSeries_Softeners.pdf
Kinetico model 2060 home water system (two tanks + a brine tank, no electricity, self cleaning) $600 installation + $5400 including tax.
Here is a picture of the 'crud' on my garden hose: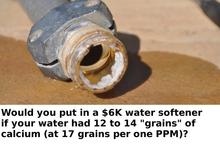 The guy tested my water at 12 to 14 grains of Calcium (he said he tested a neighbor at 25 grains plus half a grain of iron which he says makes it 30 grains). He said a grain is 17 ppm so 14 grains is about the 200 ppm calcium hardness that Leslie's Pool tested the well water at.
He said up to 3 grains is soft, 6 grains is medium and 9 grains is hard, so, he said, mine is super hard.
He provided a litany of bad things that will happen, from bubbling hot water tanks with a foot of calcium on the bottom to clogged pipes and dirty shower stalls, spotty dishes, dirty clothes, and dirty cars.
The only things I 'see' are the pool has Calcium on the walls, and the kitchen kettle gets a white coating on the bottom after a week of use. I also hear the hot water tank bubbling (which he says is due to chunks of the foot-thick coating cracking and then the water hits the super hot bottom of the hot water heater and turns into steam).
While these are not good things, can't I get a home water softener for less (much less?) than six thousand bucks installed?
Oh, he said I could rent it, at $600 installation + $55 a month.