posted on July 30, 2012, 10:41 pm
I just switched to a new WISP in the Santa Cruz mountains and was told to install the Ubiquiti Nanobridge M2-18 Outdoor MIMO 2.4GHz 18DBI.
This new UBNT NB-2G18 comes with "AirView", which is apparently a new spectrum analyzer feature.
Looking to debug why my "Capacity" & "Quality" results are lower than a neighbor's with the same equipment and only slighly shorter LOS, here are my AirView result from a moment ago: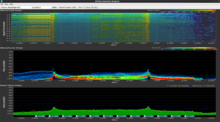 Note: The WISP is on a Rocket M2 + Rocketdish on channel 5 about 3.2 miles away, LOS.
My neighbor, 0.2 miles closer to the access point, has almost double the quality & capacity numbers, and 3dB better signal strength ... using the same equipment.
Here are my current readings: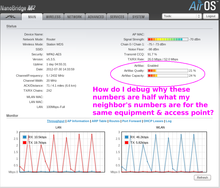 My questions? Q1: Help interpreting noise in Santa Cruz would be appreciated ('specially by Jeff!). Q2: What can I do to improve capacity & quality? Q3: Why is there that much noise at channel 12 anyway?