Each manufacturer seems to use a different glue. I also save jars for refrigerator use, but I prefer the plastic one since, if dropped, they rarely break and I am able to put them in the freezer section for long term without worrying about them cracking and putting glass shards in the contents....
I generally follow this procedure:
1) First, totally immerse in water for a couple hours. Lots of labels, such as the ones on some instant coffee jars, will then easily scrape off with a fingernail or spatula.
2) I then try rubbing alcohol. It works on some, but it just depends on the glue.
3) I then try gasoline. This usually works on anything that 1 and 2 won't handle, but it is smelly and takes time to air out the kitchen... Do it in the garage.. or porch..
4) If all else fails, and I am bound and determined to save the container, I just glue a white label over the existing one and write "Soup" or "Gravy" or something on it .....
Hint: While plastic is good for the freezer, don't use the microwave to heat up the contents. The innards get hot, and then it melts the plastic. Use glass for the microwave, and remember to take the metal top off as well as any metal ring that may be around the rim of the jar. Either can be use in the regular refrigerator part. No glass in freezer, no plastic in microwave....
Just my own experience. Maybe you can find some of it useful.


Alcohol is a likely solvent. Sometimes oil will cause them to release. .

posted on May 9, 2013, 6:16 pm

scratch the surface then apply WD 40

posted on May 10, 2013, 1:03 am

Scratch the surface, and moisten with a naptha-soaked rag (in a well- ventilated area).

posted on May 9, 2013, 6:28 pm

Some use hot melt to apply paper labels, water may remove the paper but I don't know what will remove the hot melt except heat.

posted on May 9, 2013, 9:39 pm
In

naptha/lighter fluid will remove hot glue

posted on May 9, 2013, 6:30 pm
Danny D wrote:

Soak. Put hot water in the jar to soften the glue. Scrape with a single-edge razor blade.
Turtlewax Bug and Tar Remover is good for getting glue residue off.
Beer and wine bottle labels will usually come off cleanly after a soak in a bucket of cold water with a little ammonia added.
Bob

posted on May 9, 2013, 6:43 pm

Vegetable oil on a paper kitchen towel will remove most sticky residues. If this does not work completely, take most of the rest off with a fingernail and then try the vegetable oil again. I've had to work a few times but never had a failure.
This works on other sticky labels such as those on computers and car windows.
http://www.richardfisher.com

posted on May 9, 2013, 7:27 pm
On Thu, 09 May 2013 11:43:37 -0700, Helpful person wrote:
The oil idea did a good job on the sticky residue of this vinegar bottle today: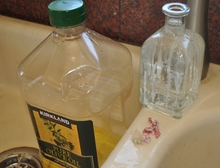 And, the water did well for these seasoning jar labels: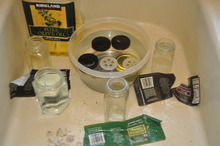 But, the real test will be this plastic vitamin bottle label: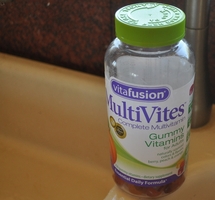 posted on May 9, 2013, 7:31 pm

You don't get out much do ya?

posted on May 9, 2013, 7:27 pm
On 05/09/2013 10:32 AM, Danny D wrote:

If you are using water, add a little dish detergent to the mix. This will ad a surfactant, which reduces the surface tension of the water and enables it to penetrate significantly faster.
Jon

posted on May 9, 2013, 7:33 pm
On Thu, 09 May 2013 12:27:14 -0700, Jon Danniken wrote:

That's a great idea. The alcohol could be a wetting agent with the dish-detergent surfactant adding to the effect!
The true test will be on the plastic vitamin jar!

posted on May 9, 2013, 7:53 pm
On Thu, 09 May 2013 17:32:01 +0000, Danny D wrote:
EXPERIMENT IN PROGRESS:
I am soaking the tough jobs in the suggested solutions, as we speak ... (Note: the gasoline & WD40 are omitted due to the fact that we want to re-use the jars!).
Here are the three experiments + one control: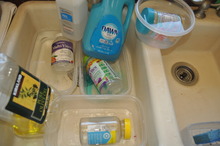 I poured alcohol on the top left; dish detergent at top right; and olive oil in the foreground; with water in the circular tub to the right as the experimental control.
Then I filled each container with water and let sit: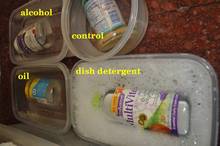 Note that everything I've tried in the past has failed on these plastic vitamin and peanut butter jars; so it will be interesting to see what happens in a day or two.
posted on May 9, 2013, 8:24 pm
Danny D wrote:
Peanut butter jars? Why didn't you say so! (those are my favorite jars for reuse -- I store bullets in them for reloading) I thought you were talking about glass jars.
Fill the jar with hot water, let it sit for a minute so the heat can loosen the glue, then carefully peel off the label. Most of the glue will come off with the label. You can then use "Bug and Tar Remover" or "Goo Gone" to clean off the residue. Orange-based cleaner or turpentine would probably work too.
posted on May 9, 2013, 8:39 pm
On 5/9/2013 4:24 PM, zxcvbob wrote:

+1

posted on May 9, 2013, 8:47 pm

Sometimes you don't even have to do the water thing. What looks like a daunting label, for instance on Nature Made Vitamins, will actually peel off as you described, almost completely if not perfectly. All you need is to get a grip on one good clean edge of the label.
Goo Gone is a lot more expensive than the household chemicals mentioned, but I like the product, especially the Painter's Pal, which it truly is. If that fails, then my little tin can of Goof Off is my last resort.
MartyB

posted on May 10, 2013, 12:35 am
On 5/9/2013 3:24 PM, zxcvbob wrote:

I believe the OP is writing about glass jars but I like the plastic unbreakable peanut butter jars for hardware because they can get dropped and tossed around the van without glass and parts flying. ^_^
TDD