On Mon, 13 May 2013 09:54:10 -0500, Nunya Bidnits wrote:

Maybe. Maybe not. It would be nice if a chemist is in the group as I can see reasons why and why not myself.
For example, most often recommended goo-be-gone stuff is simply 95% petroleum distillates themselves: http://googone.com/GooGone-MSDS
So, I'm not positive that one petroleum distillate is that much worse than another (although I am not a chemist).
Firstly, the labels are on the OUTSIDE of the plastic container and the caps were on the entire time; so one could argue that the insides are wholly uncontaminated.
Secondly, I did wash with a surfactant after dissolving the label glue with the petroleum distillate, so, one could argue it's as clean as you get your oily pots and pans.
Lastly, my petroleum distillate was relatively volatile, so, while trace amounts might incorporate themselves into the plastic, most simply vaporized outside in the hot sun.
Given that, I'm not convinced it's not food grade; however someone with more chemistry background and experience would know more than I do about this.


I'm no chemist but I wonder if you can find any food safety authority (meaning academically accredited or legally authoritative) which condones putting food in plastic containers which were cleaned in a non-industrial setting with gasoline. If you don't find your (food science) chemist here, go out and try to validate what you want to believe because there is abundant scientifically based food safety information out there on federal, state, local, and university research websites. I've burnt out on researching authoritative food safety resources whenever someone posts something like this, but it's easy to find.
On another note, taste and smell sensitivity among people varies widely, but in my case, I doubt you can soak a plastic peanut butter container in gasoline and then clean it so perfectly that I can't detect it. The point being that just because you can't detect it doesn't mean others can't, and if you've recently handled gas you may not be able to detect a trace amount. I don't know how much you separated yourself in time and space from the gas soaking experiment, but it's food for thought.
MartyB

posted on May 13, 2013, 7:46 pm
On Mon, 13 May 2013 12:41:56 -0500, Nunya Bidnits wrote:

This may be very true as my wife can smell the essence of what I've been doing even days afterward!
In fact, she had arrived home *after* my experiment had concluded:
But, she still knew *something* was up by the odd essence of distillate she caught, even though all the windows were open.
She inquired as to whether I was "up to something" again in "her" kitchen! Little did she know that prior, her sink had:
MAF cleaner:
Brake cleaner:
Engine degreaser: <=== this, I think, is what she smelled!
Paint thinner:
WD-40:
Acetone:
TSP:
Isopropyl alcohol:
Good thing she didn't see this in her sink!
But, I think it was this that she smelled, in the end:
Luckily, I learned my lesson and did the gasoline and 28% muriatic acid experiments OUTSIDE!

posted on May 13, 2013, 8:15 pm

You did all that in your kitchen sink? And your wife is a "Super Sniffer"?
I'd say you're lucky if you sleep in your own bed tonight!
You need to get one of those solvent sink contraptions that auto mechanics use to clean up dirty parts. And BTW, don't install it in your kitchen. ;-)
MartyB

posted on May 13, 2013, 11:35 pm
On Mon, 13 May 2013 15:15:21 -0500, Nunya Bidnits wrote:

Well, actually, I was experimenting in 'her' kitchen sink.

I've always been a little insensitive to pain and irritants ...

posted on May 14, 2013, 11:01 am
-snip-

Uh, Danny-- You don't need help with cleaning labels, trimming bushes or building pool poles.
this is the most valuable advice you'll ever get on Usenet- "Quit using the kitchen sink [that your wife views as *hers*] for science experiments!"
Put one of these in the basement or garage-- http://www.idealtruevalue.com/servlet/the-6762/Detail
A $30 slop sink can save your marriage-- or your life!
Plumbing it will make it better-- but a bucket or two will make it functional.
Jim

posted on May 14, 2013, 2:43 pm
On Tue, 14 May 2013 07:01:47 -0400, Jim Elbrecht wrote:

Well, there *is* that type of slop sink, in "her" laundry room!
:)

posted on May 14, 2013, 7:42 pm

Be wise and avoid that too. Git yer own sink!

posted on May 15, 2013, 2:19 am
On 05/12/2013 07:05 PM, Danny D wrote:
As long as there's a remnant of the glue the jar remains sticky and unusable, and that sure looks like glue on the mixed-nuts container. There's a limit to how much effort and chemical I'm willing to expend just to remove a label.
--
Cheers, Bev
===================================================

Click to see the full signature.
posted on May 15, 2013, 3:11 am
On Tue, 14 May 2013 19:19:19 -0700, The Real Bev wrote:

Understood.
That's why I was looking for the easiest "magic" solution.

posted on May 13, 2013, 1:21 pm
On Sun, 12 May 2013 13:20:16 -0700, Oren wrote:

I think I'm finally out of gummi vitamin bottles!
But the kids are almost finished with the next one ...
So it will get the Vaseline treatment to see how well that fares in comparison to the gasoline.

posted on May 15, 2013, 5:45 am
On Sun, 12 May 2013 13:20:16 -0700, Oren wrote:
Yeah, but I have so much extra gasoline lying around than vaseline!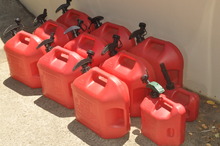 posted on May 15, 2013, 7:57 pm
On 05/14/2013 10:45 PM, Danny D wrote:
I was at the 99-Cents-Only Store this morning and picked up a 2-ounce bottle of Goo Gone. Amazingly enough, it worked really well on one of the Costco plastic candy/nut/whatever containers. Spread a little bit over the sticky with your fingers, look for a knife to use to scrape it off, find out that it doesn't scrape, grab paper towel, wipe vigorously and VOILA! Washed it with liquid detergent. Bravo. I didn't expect it to work (Shoe Goo is worthless), but it really did.
I also bought one of those Topsy Turvy things for growing tomatoes upside down ("As seen on TV"). I think they were $10 or so originally. I have some MiracleGro dirt and some 4" cherry tomato plants so I'll give it a try. Again, not much hope -- why would they be available at the 99-Cent Store if they worked?
OTOH, there's the Goo Gone...
--
Cheers, Bev
=-=-=-=-=-=-=-=-=-=-=-=

Click to see the full signature.
posted on May 13, 2013, 8:11 pm
On Thursday, May 9, 2013 1:32:01 PM UTC-4, Danny D wrote:

Why is everything a crisis with you?

posted on May 13, 2013, 11:38 pm
On Mon, 13 May 2013 13:11:43 -0700, dennisgauge wrote:

You mistake curiosity and enlightenment for a 'crisis'?
I could just as innocently ask why you aren't interested in running some experiments yourself and furthering your collective knowledge on a variety of things.
There's nothing wrong with asking, and learning from the responses - and - most importantly - receiving the knowledge learned from years of experience from those who helpfully populate this a.h.r venue.