On Thu, 09 May 2013 19:35:51 -0500, The Daring Dufas wrote:
Actually, my mistake for changing jars in the middle of the thread!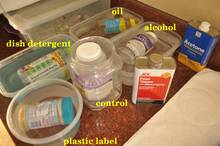 I started with glass, but they were so easy to remove the labels I then moved on to the muuuuch-harder-to-remove plastics vitamin jars with paper glued on labels.
The plastic vitamin jars have been soaking in the recommended solutions for the past five or six hours or so: 1. Oil (doesn't look good so far) 2. Soap (looks pretty good) 3. Alcohol (seems the same as the control) 4. Water (the control)
Also I have a peanut-butter jar soaking in water, but, it appears to have a plastic label, and not paper like the vitamin jars - so - it's an anomaly.
I'll report back tomorrow ...