posted on May 13, 2013, 11:20 pm
A recent thread in a.h.r blamed the government for "ruining" the portable gasoline container: TITLE: The government ruined the gas can... URL: http://tinyurl.com/cszj22e
Personally, I feel manufacturers ruined the gasoline can, simply by following only half the requirements for a gasoline can.
That half is the government requirement that the gas stay
*inside*
the can. Yet, the manufacturers wholly punted on the consumer's requirement that the gas flows
*out*
of the can!
All photos below are of the Blitz brand, since it's all I could find local Lowes hardware store, here in California anyway: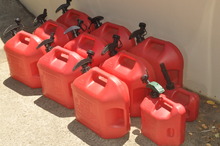 The real problem is that the engineers at Blitz designed a gas can
*only*
to government standards (and not to consumer needs).
For example, the government stipulated that no gas should diffuse or leak leak out of the can, even after a year in the hot sun; and, they mandated that accidental expression of the contents be prevented; and and they required child-proof caps, all of which Blitz engineered into the gas can.
But, the government didn't mandate consumer ease of use. Neither did Blitz design to any reasonable consumer use model.
The result is that Blitz engineers designed a gas can that holds gasoline
*in*
; but Joe Consumer can't easily get that gas
*out*
.
In a followup post, I'll describe what I think may be the engineer foibles that resulted, which I know many of you know full well.
I'm also well aware of the common workarounds to the problem, which I will mention later; but if you know of better solutions, now would be a good time to suggest them. The best solution of all, would be a replacement cap - so if you know of one, please let us know where to get it.