On Tue, 14 May 2013 18:20:55 +0000, Danny D wrote:

Apparently Angus was right in that Blitz ceased operations: http://tinyurl.com/d6ebfem http://www.plasticsnews.com/article/20120613/NEWS/306139977/ beleaguered-gas-can-manufacturer-blitz-usa-closing-down
And, Hopkins Manufacturing technical support was right when they told me they bought everything *but* the gas can manufacturing.
Blitz was spending about 3 million dollars a year in lawsuits, mostly for the gas cans not having flame arrestors built in.
---- cut here for verbatim press release ---
MIAMI, OKLA. (June 13, 10:15 a.m. ET) — Plastic fuel-can molder Blitz USA Inc. will shut operations after unsuccessfully trying to reorganize under Chapter 11 bankruptcy protection since Nov. 9, according to a company statement issued June 12.
The July 31 shutdown will affect 117 employees at Blitz's manufacturing plant in Miami, Okla.
The firm plans to liquidate all assets either en masse or piecemeal, external affairs manager Amanda Emerson said in a telephone interview.
"We appreciate the support of our employees and their families in their efforts to reorganize and develop a viable business plan," said Blitz President Rocky Flick, according to an article in the Joplin (Missouri) Globe. "Unfortunately, we were not able to address the costs of the increased litigation associated with our fuel-containment products."
In April, Blitz sold its F3Brands LLC business, a major in oil drains and other associated auto products, in a bankruptcy auction sale to Hopkins Manufacturing Corp. of Emporia, Kan. Court documents stated Blitz netted $14.6 million from the sale, which it applied to secured debt.
Blitz has been facing a storm of lawsuits blaming its products for consumer injuries caused by fires. The firm spent some $30 million defending itself in product liability suits and owes $3.5 million in legal fees, Blitz reported in court documents.
Blitz's decision to sell its assets is subject to approval by bankruptcy court. It sought Chapter 11 protection in Delaware. Wal-Mart Stores Inc., a major retailer of Blitz gas cans, also faces lawsuits.
Blitz has been the dominant producer of plastic gas cans in the United States and claimed 75 percent of the market.
"Other manufacturers face similar uncertainty — putting the industry's ability to meet the typical spike in demand driven by storms in serious jeopardy," Blitz stated in a news release.
In the week of June 4 the Portable Fuel Container Manufacturers Association began alerting consumers in hurricane-prone states of a potential product shortage, which increases public safety risk. In times of disaster, consumers rely on portable fuel supplies to operate electricity generators, vehicles, chain saws and other relief equipment.
PFCMA's legal office is in Sacramento, Calif.
PFCMA has said congressional intervention is needed to stabilize the business environment so PFCMA group members can continue supplying the products necessary for safely transporting and storing gasoline and diesel fuel.
"While it is now too late to save Blitz, adoption of mandatory safety standards could convince others to invest in expanded operations," the Blitz news release stated.
PFCMA has criticized the U.S. Consumer Products Safety Commission for twice refusing to mandate fuel-can safety standards because it claims that harmful incidences were the result of misuse of the fuel cans rather than a product issue.
Fuel-can producers have adopted voluntarily standards developed by the American Society for Testing and Materials since the 1980s. The standards include container stability and heat resistance, openings and closings, filling and pouring, drop strength, permeability and cautionary labeling.
Labeling, for example, states that gasoline should never be used to start or accelerate a fire. Much litigation resulted from such misuse of the fuel in the containers.
U.S. consumers buy more than 15 million portable fuel cans each year, but that number rises by 30 percent when hurricanes make landfall.
"If gas cans aren't available, disaster victims will still be transporting and storing fuel, but at much greater risk to themselves and everyone around them," Blitz stated.
Blitz President and CEO Rocky Flick said the sale process for the Miami assets could take three months.
Other PFCMA members include Midwest Can Co. of Melrose Park, Ill.; No- Spill Inc. of Lenexa, Kan.; Scepter Corp. of Scarborough, Ontario; and the Plastics Group Inc. of Willowbrook, Ill.
"Blitz was very good at what they did," said Tom Cray, president of No- Spill. "The legal system is what brought them down. Blitz exported around the world and only here [in the United States] were there lawsuits."

I have one of these idiotic gas cans. I hate the damn thing with a passion, but until I find a replacement older style can at a garage sale or auction, I'm stuck with it. The other night I went to town after dark. I needed some gas for my tractor, and I put about 4 gallons in the 5 gal can, and placed it in the bed of my pickup truck, being sure to tie it to the truck rail so it dont tip over and possibly spill. Gas it too damn expensive to spill these days.
I got home late and was damn tired, so I went to sleep without putting the gas can in the shed. The next day was hot and sunny with temps well over 90 deg. Around noon I walked past my truck and noticed the gas can had ballooned out. The can was so bloated it was actually round, and was rocking back and forth from myself leaning against the truck. Only the twine I used to tie it kept it from falling over. I released the lever and a huge amount of gas smelling air came out. Even after allowing all the air to escape, the can was still rounded. I then put the can in the shed. Today the weather was cooler and when I went to get the gas can, it had gone the other way, now it was all sucked inward.
Those valves apparently do seal well, maybe too well. I wonder how much longer that can would have held the huge amount of pressure inside of it, sitting in the hot sun, before rupturing. And if I had not tied it, it would have tipped over, because it was only the twine that held it upright.
Somehow this does not seem safe. If the temperature had been higher, I'm afraid it would have blown up. There needs to be some sort of pressure relief on them, or KABOOM!
So much for government safety!

posted on May 16, 2013, 7:16 am
On Thu, 16 May 2013 01:08:11 -0500, repairs wrote:
While I agree with you that they blow up like a balloon, which makes them tip over easily, I don't think they'll ever actually explode from the 13 psi above atmospheric vapor pressure inside.
If you didn't see it, here's a picture I had posted of my 5-gallon Blitz gasoline can where I took two cans from the shaded shed, and put one in the sun, and the other next to it, in the shade, for ten minutes ... look what happened: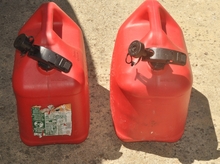 posted on May 16, 2013, 8:37 am
On 5/16/2013 2:08 AM, snipped-for-privacy@workshop.com wrote:

Yah, this is serious shit. There should be a law that requires all new gas cans have a charcoal canister/vapor recovery unit on them.
Remember, it's for the children!

posted on May 16, 2013, 10:48 am
On Thu, 16 May 2013 01:08:11 -0500, snipped-for-privacy@workshop.com wrote in
may be dangerous and explode:
The U.S. Environmental Protection Agency's publication "AP-42: Compilation of Air Pollution Emission Factors", Chapter 7, Table 7.1-2, publishes the True vapor pressures (in psia) for gasolines having Reid Vapor Pressures of 7.
That Table 7.1-2 is at:
http://www.epa.gov/ttnchie1/ap42/ch07/final/c07s01.pdf
Extracted from the table
deg F: 40, 50, 60, 70, 80, 90 and 100 psi: 7.8, 8.3, 10, 11.5, 13, 13.5 and 15.
In your case the temp of the can was probably well over 100F so the internal pressure was well over 15psi.
posted on May 16, 2013, 2:07 pm
On Thu, 16 May 2013 05:48:11 -0500, CRNG wrote:

Angus, at CARB, told me that the California Winter forumulation had a RVP of 13.
Does that mean that California gasoline is more volatile than those having an RVP of 7?

posted on May 16, 2013, 10:18 pm

id

I use gasoline to clean bearings before repacking. Just a little in a small pan.
Much of the gasoline NEVER evaporates. just a one inch deep sluge remains 3 weeks later.
i have tried using bearing cleaner without much success.......
its a big job getting to them, and i dont want to have to do the job again because all the crud wasnt removed....

posted on May 16, 2013, 4:10 pm
On 05/16/2013 01:08 AM, snipped-for-privacy@workshop.com wrote:
The lack of a vent makes flow erratic. I'll be filling my mower, and it has slowed to a trickle. Then along comes a burst, causing gas to spill on the mower.
[snip]
--
Mark Lloyd
http://notstupid.us

Click to see the full signature.