On Wed, 10 Apr 2013 05:10:04 -0700 snipped-for-privacy@optonline.net wrote:

UPDATE: I don't have a picture yet because I just now put the test towel towel in the wash, but here's what I did as a basic experiment. (I'll have a picture in about an hour when it's all washed and dried.)
As a very crude test, I placed a blue bath town on a slight slope outside and started dropping bleach drops onto it, but then I realized the bleach drops were spreading and coalescing into one another and I hadn't thought ahead to mark the spots anyway ... so I got a bit impatient and just dumped about a cup of the household bleach onto the bath towel.
I waited about two or three minutes (which is about the right amount of panic time were that to happen on my carpet), and then I poured an equal amount of white ammonia onto the same area.
I waited about an hour, and, to stop the reaction, I flooded the whole thing with a strong stream of water from a garden hose (which turned out to be a mistake as it made the towel all muddy).
Then, I put the mess in the wash with other soiled clothes; so it's in the middle of its 90-minute cycle right now. In hind sight, I should have done a control, but I didn't think of that at the time of the test earlier today.
When it's all done and dried, I'll snap a photo and post the results. I guess what I'm looking for is for bleach spots to NOT show up - but I'll wait for the test results before making any assumptions.


I seem to remember sodium thiosulfate was one of the chemicals we used to fix b+w photographs after removing them from the developer. Anyone else remember this????

posted on May 13, 2017, 12:32 pm
replying to hrhofmann, timtom wrote: We used to call it into the Hypo Which immediately stopped the developing process and "fixed" the image. Perhaps Sodium hyposulphide?

posted on May 13, 2017, 4:28 pm
On 5/13/2017 11:44 AM, timtom wrote:

Comical to follow thread there. Mohamed says his mother would spray with ammonia. Muslim kids blow up fast.

posted on April 11, 2013, 4:45 am
On Thu, 11 Apr 2013 00:43:26 +0000 Danny D. wrote:
Well, initial results aren't as perfect as one would have hoped: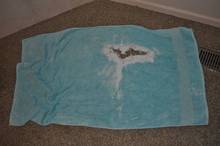 Maybe I did the experiment wrong.
posted on April 11, 2013, 11:58 am

I think the problem here is that you said you were looking for an "instant" antidote to bleach. But in the test, you waited 2 or 3 mimutes. Pure bleach out of the jug is powerful and the damage is very likely done long before that amount of time has elapsed. In the household accident scenario, if you spilled just a few drops, ie a small amount, then flooding it immediately with water is what I would do. Spill a few drops, put a quart of water on it. It would not surprise me if even that doesn't work, because the damage is already done.
Putting ammonia on it would be the last thing I'd do. I think ammonia by itself could harm the carpet. And if you're counting on it reacting with the bleach, like and acid and lye would, you don't know the proper amounts, can't control the area where it goes, etc.

posted on April 11, 2013, 7:15 pm
On Thu, 11 Apr 2013 04:58:00 -0700 snipped-for-privacy@optonline.net wrote:

That much is true!
Most of the tear damage to the bath towel happened in the wash cycle - but certainly the bleaching of the color happened from the time the bleach was on the towel.
One lesson learned is don't spill bleach! :)

posted on April 11, 2013, 3:17 pm

you didn't say what the fabric content of the towel was. looks right. I expect a hole to be eaten through when a cup of bleach is poured onto fabric and allowed to sit.
your photo looks a lot like what the carpet in the flat looked like too. ;)
I found that all the new recycled cotton fabrics dissolve with bleach fast! but the old original cottons are a bit more robust. just a little bit
OT - is the website you posted the picture at a public site? how to gain access to post a picture?

posted on April 11, 2013, 7:22 pm
On Thu, 11 Apr 2013 08:17:23 -0700 Robert Macy wrote:
The label says: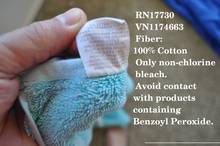 RN17730 VN1174663 Fiber: 100% Cotton Only non-chlorine bleach, when needed. Avoid contact with products containing Benzoyl Peroxide.
I was surprised it mentions benzoyl peroxide (acne creams?) as they could have mentioned a thousand chemicals - but why benzoyl peroxide?
posted on April 11, 2013, 9:47 pm

Because it's a *very* powerful bleaching agent.

posted on April 11, 2013, 3:37 pm
On Thursday, April 11, 2013 12:45:21 AM UTC-4, Danny D. wrote:

If you get a chance try again with vinegar. I think it is more likely to work fast than ammonia.
Of course the flood with water approach sounds good but you are going to spread the bleach that way if there's enough of it.

posted on April 10, 2013, 5:39 pm
On 4/9/2013 8:11 PM, Danny D. wrote:

There's a product sold for aquariums that neutralizes chlorine & chloramines in water, that I use for watering my plants. I suppose that would work.

posted on April 12, 2013, 8:41 pm
On 4/9/2013 8:11 PM, Danny D. wrote:
Hydrogen peroxide--though you would probably need it in industrial strength concentrations.
Hydrogen peroxide combined with sodium hypochlorite produces oxygen gas, water, and chlorine gas. Chlorine gas can be toxic, but since you're only neutralizing a few drops of Clorox, just keep the place well ventilated and you'll be fine.
posted on April 13, 2013, 3:45 pm
On Friday, April 12, 2013 4:41:31 PM UTC-4, Steven L. wrote:


Very, very bad idea.
Not because it will release chlorine. There isn't that much chlorine avail able in a few drops of bleach. And really that's what we want - to get rid of the chlorine so it doesn't bleach the carpet.
No, it's a bad idea because hydrogen peroxide ITSELF bleaches fabric. This is true even for a few drops of household strength hydrogen peroxide. We' ve used it to soften wax in the ear. That only takes a few drops, but it i s guaranteed to stain clothes unless you wrap up well in a towel. (white t owel, preferably)