On Mon, 20 May 2013 02:06:54 -0400, gfretwell wrote:
Thanks for that information as the bearing designation definitely still confuses me (if I wish to understand the various suffixes).
Googling, I see the shield is a non contact surface, while the seal is a contact surface (for what it's worth).
The old bearings were the 6203V NSK USA while the rebuilder (for about $150) put in the KBC 2145 6203D China bearings: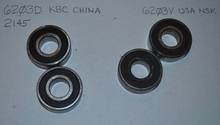 Googling, I find the AO Smith part number, size, & description is: 604005-001 ID=0.6693",OD=1.5750",W=0.470" double sealed high thrust
The nominal size for a 6203 bearing seems to be slightly different: 6203 ID=0.66993", OD=1.5748", W=0.4724"
But, maybe that's just a function of metric-to-english conversion: IDmm, OD@mm, Wmm
The actual 6203 apparently boils down to this: 6 = metric, single row ball bearing, deep groove 2 = light duty (e.g., 40mm OD, 12mm width) 03 = 17 mm bore diameter
The 6203 is so common, I find a confusing array of suffixes: 6203D (http://webshop.abfbearings.com/Bearing/6203D-KBC/329328 ) 6203V (http://www.tanchin-hk.com/bearings-shop-22026-NSK.html ) 6203LL (http://www.spapartsshop.com/na-6203-ll.aspx ) 6203ZZ (http://www.vxb.com/page/bearings/PROD/kit1040 ) 6203RS (http://www.inyopools.com/Products/07501352012909.htm ) 62032RS(http://www.thebigbearingstore.com/servlet/the-424/6203-dsh-2RS-6203-dsh-ZZ-Radial-Ball/Detail ) etc.
From the advertising, these "seem" to be what the suffix indicates: 6203D (deep groove, ball, single row, rubber seal on one side) 6203V (deep groove, ball) 6203LL (same as 2RS) 6203ZZ (double, staked, non-contact, 300 series stainless steel shields) 6203RS (rubber seals) 62032RS (two rubber seals)
This is all so confusing... that I think I'll call AO Smith for advice.