On Fri, 17 May 2013 09:35:30 -0700, Oren wrote:
Auuuuurgh.
*now*
I understand what you were trying to tell me! You are wholly correct! In fact, while I was testing the system just now, I kept kicking the concrete paver, and thinking I should have moved it up a foot or so, out of the way.
That's
*exactly*
what you had forseen, and were desperately
*trying*
to tell me! Mea culpa. I did what I thought you had suggested, only I didn't fully understand it.
Next time, I'm just going to put a straight shot conduit from panel to motor - but - if I were to have the junction box, I would move it closer to the panel so that it's more out of the way!
Sigh. (slaps head).
Anyway, since the leaks moved backward (now they're coming from the underside of the pump to motor interface!), I'm glad the paver is there to keep the electrical box dry!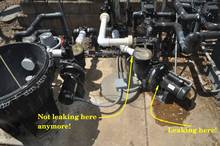 I

DDD-
That's got to be the most unusual wiring job I've ever seen in 45 years of DIY & real engineering too.

posted on May 20, 2013, 4:24 am
On Fri, 17 May 2013 22:12:52 -0700, DD_BobK wrote:

It was my first conduit wiring job ever.
I designed it specifically to make it easy to remove the pumps when the covers are permanently rusted onto the motors (such that the wires can't be disconnected from the pumps).
For that, it works.
However, in (my now more experienced) hindsight, I'd just cut the conduit when the end caps rust on the conduit - since I'm no longer scared about conduit wiring.
And, when that happens, I'd just replace the entire cut conduit with a straight run right into the controller, which will be easier and even cheaper than adding the junction box. And more reliable.
I never said I didn't learn any lessons after having done a task.

posted on May 20, 2013, 1:29 pm

Two things:
1 - Do you actually have to take the whole end off the end of the motor, which I assume means removing the 4 very long motor bolts? I haven't done a pool motor, but the typical motors I've worked with, they had a small cover plate over the wiring connections that was easy to remove. Especially if you put some grease on the screws before assembly.
2 - If you hook it up direct, you can leave some extra slack in the conduit and some extra wire at the controller box, so that if you need to cut it off at the motor to remove, you will have enough conduit and wire left so you can reconnect without redoing it. have enough conduit

posted on May 20, 2013, 11:07 pm
On Mon, 20 May 2013 06:29:32 -0700, snipped-for-privacy@optonline.net wrote:

You must take the endcap off the motor, but it's two short steel bolts (about an inch long).
If you don't take the endcap off the motor, you can't unscrew the ground wire (which is bolted down); nor can you unclip the two power wires (as they're clipped on).

I understand; but there is no cover plate on these motors. In addition, the bolts are soft rustable steel; and they sit outside. Makes no sense to me that they're not stainless steel bolts.

I understand. Makes sense.
I saw a video while I was looking for motor rebuilding where they drill out the bolt heads - which would be the first thing to try.

posted on May 20, 2013, 11:58 pm

Why not replace them with SS? And I'd put some grease on them.

posted on May 21, 2013, 2:55 am
On Mon, 20 May 2013 16:58:35 -0700, snipped-for-privacy@optonline.net wrote:
The hard part, of course, is sourcing the stainless steel bolts.
For example, the "real" rust problem is these foot-long bolts!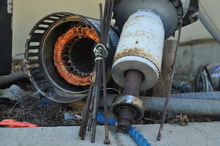 It is beyond me how they can make bolts that thin, that long, and that vulnerable out of soft steel for a motor that is expected to be outside.
As per the suggestions here, I put anti-seize on the cap bolts, and, next time I remove the long bolts, I'll put anti-seize on them too!
posted on May 21, 2013, 3:33 am

Unless they are some hard to find size, HD or Lowes, ACE hardware. Also boat supply places, like West Marine
.

posted on May 21, 2013, 6:13 pm
On Mon, 20 May 2013 20:33:00 -0700, snipped-for-privacy@optonline.net wrote:
If I could find replacement through bolts, my last three or four motors might have been more salvageable: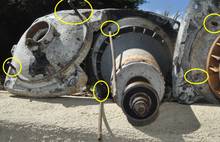 Googling, I found drastic removal of those super long "through bolts" referenced in this informative (but a bit obnoxious) video by Joe Tomorrow at http://wetheadpumprepair.com
http://www.youtube.com/watch?v=ogvSkRUCamc
Of course, while cutting the heads off (as shown above) allows the motor to be disassembled, it still leaves the last threaded inch of the thru bolts stuck fast inside the motor housing.
http://www.youtube.com/watch?v=6XgzmDE3Rdc
I called wetheadpumprepair at 631-671-8302 and they said to use the contact form to locate the desired through bolts. As always, I will update you on what I find out so others can follow in our footsteps.