posted on January 28, 2013, 11:44 pm
I can't find the right group so the two groups this is being sent to are actually each half-way related to the question below.
I made a home-built C02 carbonation machine using a 20 pound carbon dioxide tank and some pneumatic hoses & couplings, which, along with a tire valve inserted into a soda-bottle cap, allows me to easily carbonate water at home, three liters at a time (as shown in this photo below):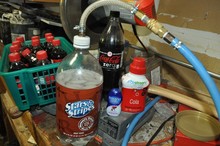 My question is related to that machine, but it's related more to the food flavoring - in that the entire endeavor is a waste unless/until I can find an economical alternative to the desired cola flavoring.
Here is a picture of the cola flavoring I'm currently using: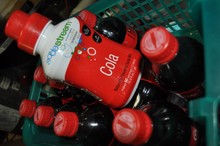 The 'problem' is that it cost me $5 for the cola syrup, which makes 12 liters, or, roughly about 50 cents a liter. Compared to the C02 which costs perhaps a penny or two per liter, and the water which is also something on the order of a penny a liter, the whole home soda machine project is a failure unless I can get the cola flavoring costs down.
Any ideas on how to relatively closely duplicate the cola flavor at a substantially reduced cost than what I'm currently paying?