On Tue, 29 Jan 2013 08:18:24 -0500, George wrote:

True. The kids think carbonated water is god awful.
The wife, on the other hand, enjoys a bottle with just a few drops of my home-made lemon extract.
For the lemon extract, I simply steep zested peels (the yellow, not the white inside of the rind) in the strongest cheapest concentration of ethanol I can find (which is Vodka).
Unfortunately, I'm paying the "alcohol sin tax", even though the point isn't to 'drink' the alcohol used.
BTW, is there a cheaper source of strong ethanol other than Vodka?

On 1/29/2013 10:21 AM, Danny D. wrote:

everclear

posted on January 29, 2013, 7:57 pm
chaniarts wrote:

Or if you don't mind if it's flavored a bit and not clear, Ronrico 151 rum (Ronrico costs about 1/2 what Bacardi does)
Bob

posted on January 30, 2013, 2:25 am
On Tue, 29 Jan 2013 10:39:37 -0700, chaniarts wrote:

Hmmm... I never heard of it (but I'm admittedly not a connoisseur of hard liquors by any stretch of the imagination).
Looking it up, it's ethanol from corn (versus Vodka, which is ethanol from potatoes).
It looks like I can get 190 proof (95% ethanol) so that would be perfect as the Vodka I'm buying is only something like 100 proof (50%).

posted on January 29, 2013, 11:13 pm

Look for everclear. around the same price but its 200 proof.
Robert

posted on January 30, 2013, 1:35 am
On Tue, 29 Jan 2013 18:13:36 -0500, "Robert"

No more than 190 proof (though some is "only" 150 proof). Ethanol can't be distilled beyond 95%. To get it more pure, things like Benzene have to be added, which just kills the flavor.

posted on January 30, 2013, 7:40 pm
On Tue, 29 Jan 2013 20:35:17 -0500, krw wrote:
Look at what I just found in my "chemical stash" from grad school days!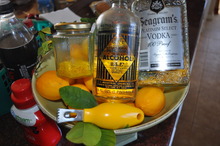 It's pure ethanol, with a long tax stamp even! It has to be 35 years old or more!
I don't see 'any' mention of benzene on the bottle though ...
PS: When did they stop using tax stamps on alcohol?
posted on January 31, 2013, 1:03 am
On Wed, 30 Jan 2013 19:40:15 +0000 (UTC), "Danny D."

That's how it's made. Alcohol and water *CANNOT* be distilled above 95%. Impossible. To make "pure" alcohol, one adds 5% benzene to the 95% alcohol/water mix and then distills the alcohol off from that. There will always be a trace of benzene in the resulting alcohol; enough that you really don't want to drink it.

Did they?

posted on January 31, 2013, 3:31 am
On Wed, 30 Jan 2013 20:03:50 -0500, krw wrote:

I remember drinking these bottles a very long while ago. Maybe I shouldn't have.
BTW, there is NOTHING about the benzene being in the ingredients. It says it's pure ethanol, USP.
The tax stamp goes across the cap and down each side. Didn't all liquor have these stamps in the olden days?
They certainly don't have them now.

posted on January 31, 2013, 4:02 am
On Thu, 31 Jan 2013 03:31:42 +0000 (UTC), "Danny D."

Well... <gazes down at his shoes...>

USP is branding. They don't include trace chemicals.

I've seen a *lot* of those bottles. When I was in college we used to use the stuff for cleaning electronics. Without the taxes, it's cheap.

Just asking. I don't think I've bought a bottle of liquor for at least a decade, probably two or more. I still have an unopened bottle of Chevas Royal Salute my MIL brought back from England (duty free) in '84, I think.

posted on January 31, 2013, 4:04 am
Danny D. wrote:

There's other ways to remove the last trace of water besides distillation.
Bob

posted on January 31, 2013, 5:19 am