posted on April 11, 2013, 9:25 pm
In another thread, it was determined that porcelain toilet bowls were impervious to commonly available acids such as phosphoric (Naval Jelly) & hydrochloric (pool muriatic acid).
So, I'll run an experiment to see which will remove the brown stains best without destroying the porcelain or tile.
Here is a picture of the brown toilet bowl stains, after scrubbing and household bleach - but before the first treatment: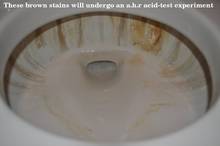 Here are the next three planned treatments: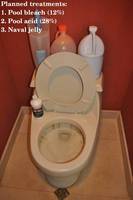 1. Pool bleach (12%) 2. Pool acid (28%) 3. Naval jelly
Let me know if you have any suggestions before I conduct the experiment.