wrote:

Except possibly the flapper. 30 years ago, I bought "1000 Flushes" for each toilet, and within two weeks, I had lots of black streaks down the sides of all 3 of them.
I sent the flappers and the boxes that 1000 came in to the manufacture and they refunded the 1000's and paid for new flappers, and postage.
But I've still never used the product again.

Yes.
There are some special products, like for when the faucet drips on the sink all the time, and the water evaporates leaving some mineral.
When one lets urine sit in the toilet too much, acidic toilet bowl cleaner may be needed. But that's not the problem here, because that problem is no higher than the water line.

On 1/15/2014 8:55 PM, shellyf_DELETE snipped-for-privacy@hotmail.com wrote:

Use bottled water. There are a lot of solids in water and they will precipitate in a toilet. Aside from cleaning the bowl filtration and/or a softener would help.

posted on January 16, 2014, 5:52 am
I couldn't get the photo to load on that page, but saw the direct link...
http://i1201.photobucket.com/albums/bb360/shelf1/toiletrimdirty.jpg
posted on January 16, 2014, 11:51 pm
On Wednesday, January 15, 2014 7:55:47 PM UTC-6, snipped-for-privacy@hotmail.com wro te:

ml I replaced the entire valve assembly and the flapper. Still, the toilet dirt lines appear, as can be viewed on the pix. What should I do next? tia
Shut the water off, flush the toilet and hold the hadle down until thewater in the tank is down to the level of the flapper. Then pour the strongest toilet cleaner you can find diretly down the tank outlet. Don't let it tou ch the flapper mechanism. That hopefully will clean out the passageway tha t goes around the top of the toilet bowl. Let the cleaner alone for an hou r or so, and then turn the water back on and flush several times, a lot of crud should come out of the perimeter rim holes.

posted on January 17, 2014, 12:08 am
Sounds good, will do. thanx On Thu, 16 Jan 2014 15:51:30 -0800 (PST), " snipped-for-privacy@sbcglobal.net"


posted on January 17, 2014, 5:37 am
On Wed, 15 Jan 2014 20:55:47 -0500, shellyf_DELETE snipped-for-privacy@hotmail.com wrote:

On second t hought, this reminds me of when I had mold on the bottom of a wall in the basement, below the downspout.
I sprayed bleach on it several times, wondering why it didn't kill the mold when it was said to do that. Finally I reallized the mold was dead, but that wasn't going to make the black mold turn white. I had to paint.
Similarly, you need to clean the toilet dirt lines off. All the ways they gave are probably good. If the dirt comes back, you'll have a better idea of where it comes from.

posted on January 19, 2014, 2:34 am
On Wed, 15 Jan 2014 18:28:47 -0800, Oren wrote:

Oren is right.
I experimented with all the AHR suggested solutions.
If you dig up my pictures, you'll see a much worse problem, solved in a few minutes, albeit not without a few safety concerns.
Here is a search term to use in "images.google.com": "danny d" "toilet bowl" "hydrochloric acid"
Here are a few pictures of the results:

posted on January 20, 2014, 7:34 pm
On Sat, 18 Jan 2014 19:16:52 -0800, Oren wrote:

Indeed!
What's not obvious, until you experiment with hydrochloric acid (HCl), is that the toilet bowl "crud" isn't at all what we think it is (at first).
It's mineral deposits, covered in crap.
So, while you can bleach it white (with pool chlorine), and while you can scrape it raw (with Ajax) - the simplest easiest (not the least dangerous though) way to remove the crud is simply to run the Oren-Haller Huckleberry procedure.
The exact details are painfully outlined in the aforementioned thread; but it mainly involved donning safety equipment to then simply pour a half gallon of the muriatic acid into the tank.

posted on January 19, 2014, 2:40 am
On Thu, 16 Jan 2014 20:49:28 -0500, Norminn wrote:
I agree, you have to pay attention to technique: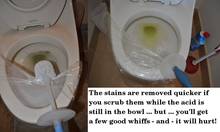 However, I think a gallon is a perfect size, since it took about a half gallon for me to clean the ones I tried (albeit they were badly crudded up).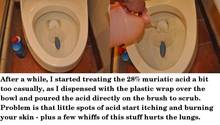 Home Depot, Lowes, and all pool supply stores sell the 28% HCl, which is pretty cheap at about 5 to 10 dollars a gallon:
http://www.lowes.com/Pool-Chemicals/Pool-Balancing-Chemicals/Muriatic-Acid/_/N-1z0weh7/pl?rpp2
#!
So, that's about $2.50 to about $5 per toilet bowl ... http://www.diybanter.com/home-repair/355758-update-cleaning-3-more-toilets-brown-streaks-using-hcl-poolacid.html
posted on January 19, 2014, 2:43 am
On Fri, 17 Jan 2014 00:37:55 -0500, micky wrote:
In my toilet bowl, the pool bleach (admittedly much more powerful than household bleach) simply turned the brown crud white.

It took the pool acid to remove the crud (in a bubbling frothing satisfying way!).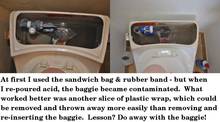 Forget the Naval Jelly. That was a bust. And, um, be careful with the acid ..........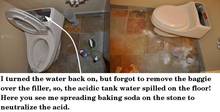 posted on January 21, 2014, 3:44 am
On Mon, 20 Jan 2014 11:53:59 -0800, Oren wrote:

I stand corrected.
Also, I was searching for the word, so I used crud, but, you're right, that the correct technical term is cooties!
http://www.oxforddictionaries.com/us/definition/american_english/cootie
As in: http://wiki.answers.com/Q/Why_do_boys_have_cooties