KenK;3619391 Wrote: > What's effective to put in the toilet tank to prevent those brown rust > stains in the toilet from hard well water?
That "rust" is more likely Iron Bacteria and is very pervasive. We have learned to live with underwear (Bleach not kind to a Septic tank) that is no longer white and stains in the dishwasher. We occasionally use Rust-Out but is tedious to use and expensive.
For the toilet we got a thing called "Kaboom" dumbest name ever. It uses large white Chlorine tablets and hangs in the tank ABOVE the water level so it does not affect the water in the toilet tank. I had tried some of the in-tank things and they ate the rubber seals.
Anyway, the kaboom tablets are expensive so I got some Brominator tablets for cleaning swimming pools. About 30 x 1" diameter tablets for about 8-bucks.
Honey has not had to clean the toilet bowls for two years. Awesome thing.
I have nothing to do with Kaboom or the bromine tablets, just a very happy customer.
For stains already n the bowl, use Rust-Out and make a loose-paste (pancake batter) and brush it on. It has to "work" for about 20-minutes so you need to go back every five minutes and brush some more on as it dries out and stops working. A royal pain, but once the stain is gone the tablets will keep it that way.

Put automatic dishwasher powder in the tank after each flush.

posted on September 6, 2016, 8:58 pm
Ed Pawlowski posted for all of us...
That would mean I would have to move them from the sink where I wash them every time I pee.
posted on September 8, 2016, 3:16 am
On Fri, 02 Sep 2016 11:00:56 -0700, Oren wrote:

Oren my huckleberry friend,
You forgot about brown cooties already? You taught me all about them!
I suspect what the OP "thinks" is rust, is the brown cooties you described in my sister's toilet bowl.
Remember I tried a dozen chemicals from phosphoric acid to pool acid? I tried bleach. I tried vinegar. I tried Ajax. I tried every powder in the kitchen.
Nothing works as well as plain old pool acid. Gone in an instant.
To the OP. Run a search for my name in http://tinyurl.com/alt-home-repair
Put a couple of keywords about the toilet bowl cleaning and you'll find the pictures.
I have given a half-dozen neighbors jars of pool acid since, and they all cleaned their toilet bowls of what we can nicely term "rust" but which isn't rust in the least (as proven by the fact that the rust removers did nothing and the bleach bleached them white).
To the OP: What you have most likely is some kind of mineral deposit (depending on your water, mine was calcium carbonates) with poo poo on top.

posted on September 8, 2016, 3:27 am
On 2 Sep 2016 17:31:09 GMT, KenK wrote:

Does it look like this?
It's probably not rust because if it were rust, the phosphoric acid would have worked:
Oren kindly explained to me what it really was:
I documented the use of all the chemicals that people suggested:
Go to tinyurl.com/alt-home-repair and search for: Experiment removing brown toilet bowl stains with various acids
You'll find this thread where I documented every household chemical: https://groups.google.com/forum /#!msg/alt.home.repair/lIRJ6jTOkSI/RBIGyyYU3PQJ;context-place=forum/alt.home.repair
Here is the final experiment in progress:
And here is the penultimate picture, with only a little more to go:
Here are composite photos from that thread:
So, your *first* revelation is to realize that it's not rust. Ask Oren for the details.

posted on September 8, 2016, 3:31 am
On Thu, 8 Sep 2016 03:27:26 -0000 (UTC), Danny D. wrote:
Ooops. I just realized the OP was talking about the TANK! But noticed that the tank also got cleaned as well.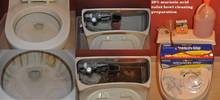 I don't know what the brown stuff is in the tank.
Oren ... you're the expert ... what it is?
Is it cooties? (Probably not because the take is before the bowl.)
posted on September 8, 2016, 10:42 pm
On Thu, 08 Sep 2016 10:42:09 -0700, Oren wrote:

My sister's bowl had "rust colored" schmutz on the inside walls of the tank, which were "disappeared" by the pool acid.
For cleaning 'terlets, there's nothing better!