On Mon, 08 Apr 2013 11:59:51 -0400 Roanin wrote:
Looking up what the chemical is from the MSDS: http://www.msds-gsk.com/consumer/12697006.pdf
20% Citric acid (CAS 77-92-9) 11% Sodium carbonate (CAS 497-19-18) 4.3% Potassium peroxy monosulfate (CAS 10058-23-8) 10% Sodium perborate monohydrate (CAS 10332-33-9) 54.7% Non hazardous stuff
I'm not a chemist - but my quick initial assessment is that the peroxy compound is an oxidizer (like bleach) and the perborate is perhaps a water softener.
I suspect the citric acid and sodium carbonate are so that the thing fizzes, which may aid in mechanical removal of deposits, since dentures are soft so you don't want to scrub them too hard.
Googling for what the other stuff is, I find this FAQ: http://www.mypolicare.com/Polident_FAQ.aspx#faq28
28. How does Polident 3 Minute MicroClean Formula work? Polident® 3 Minute MicroClean is specially formulated to dissolve quickly so that the cleaning and freshening agents can get to work right away. Formula kills 99.9% of odor-causing bacteria Bleaching agents help restore dentures to their original whiteness Detergents help penetrate deposits and lift them away Peppermint and spearmint oils & menthol leave your dentures feeling fresh Formula kills other microorganisms when used for five minutes.
In summary, I'd be surprised if it works on toilet bowls, where scrubbing won't even work - but please do try it and report back (with a picture!) so that I can figure out whether it will work for my application!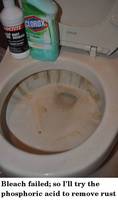 wrote:

I may try that myself.
Right now I used to use Lime-Away I think it was acidic toilet bowl cleaner, but I don't see that for sale anymore. I used to get it at Lowes and they had nothing similar at HD.
So I use The Works, which is also called acidic on the label. follow the instructions on the label. I think they have that at Lowes.
I was afraid it would damage the porcelain, but after a few uses I rubbed one of the formerly dirty areas with a finger and it seemed just as smooth as the outside which has never been cleaned with anything but water. .

I had this problem when my prostate started making me pee a smaller amount but many times a day. Even though I'm charged a flat rate for water, I couldn't bare to flush the toilet all the time for a little bit.
Guess what? The same thing happened in my bladder. Because I didn't flush it completely, only expelled a little, and left the rest in there, I got depostits and a bladder stone almost as big as a golf ball. Thank gosh for fancy doctors and lasers. I would hate to have had the stone taken out the way they did 2400 or 60 years ago.
I hope your mother doesn't. get worse.
I wonder if there is some sort of automatically flushing toilet out there. I haven't heard of one, but maybe go to a real plumbing supply store.

posted on April 9, 2013, 6:25 am
On Tue, 09 Apr 2013 02:18:34 -0400, snipped-for-privacy@bubba.com wrote:

I should have said that I fell way behind in the first 6 months, and the first time, I had to clean it about 6 times in a row to get it all clean. After that it was much easier.

posted on June 3, 2014, 11:09 pm
I tried the denture cleaner technique and it worked!

posted on April 8, 2013, 4:25 pm
On Mon, 08 Apr 2013 15:56:50 +0000 notbob wrote:
I don't know much - so go by what others say ... but if it's brown rust, you might get away with phosphoric acid based solutions.
By way of example, here's a picture of a brown-stained toilet at my sister's house that I put some naval jelly on this weekend: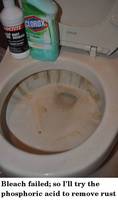 I don't have a followup picture yet because I told her to let it soak for a while and then flush the toilet - so I will need to return to her house to see whether it worked or not.
BTW, I don't know what the brown stains are, but they don't clean easily.
The bleach did not work. My sister said she had scrubbed already, so I didn't even try to scrub them. I'm hoping the phosphoric acid, left on for an hour or two, will have done the trick by the time I return.
posted on April 8, 2013, 4:47 pm

I'm pretty sure it's a calcium deposit, like lime. It's rough and porous, where rust stains are usually only color stains.

Hmmm.... I've found bleach will do well in eliminating the color and leave the porcelain white, but not remove the porous deposits.

Let me know how it works. I've got some Polident doing its thing, now.
nb

posted on April 8, 2013, 4:44 pm
On 4/8/2013 11:56 AM, notbob wrote:

If you can't wash it off without scrubbing with a Brillo pad or the like the glaze is probably already deteriorated. I would just replace the toilet if the stains bothered me that much.
John

posted on April 8, 2013, 4:48 pm

That would account for the rough porous feel to the glaze. I hope that's not the case.
nb

posted on April 8, 2013, 5:12 pm
notbob wrote:
The roughness is from lime deposits which may be further stained by iron. Citric, phosphoric or any other acid will remove both but you are better off using the milder citric or phosphoric as opposed to hydrochloric (muriatic).
For the bottom of the bowl, shut off the water supply to it and flush so that there is minimal water left; then add the acid and let sit for several hours. If it (deposit) is all gone, turn on water and flush; if it is not, repeat the acid.
The stains under and down from the rim are harder as they need to be kept wet with the acidic soultion; one way is to saturate paper towels with the solution and pat them in place. Close the seat and wait, repeat as necessary.
Your long term solution is to soften the water. That will solve the lime problem and may solve the rust depending on how much iron is in the water. If the softened water still results in iron stains, your solutions are to also get an iron removal system (not cheap) or periodically clean with acid.
--

dadiOH
____________________________

Click to see the full signature.
posted on April 8, 2013, 5:44 pm

Definitely deposits. I got a lot removed with the Polident, but still two heavy deposits. As a goof, I tried lightly scraping with a screwdriver. Chunks of brown deposit broke free! I'll continue along this line, but will try something that won't scratch the porcelain glaze.

I discovered a neat trick to help further empty the bowl. After shutting off the water to tank and flushing, rapidly dump a gal jug of water into the bowl, all at once if possible, and from several feet above the bowl. Inertia of the falling jug water will remove even more water, right down to jes above the water seal level, in my case.

CO water is notoriously soft. Our's is a little less soft than most of the state, but still fairly soft water. I haven't bought bottled water since I moved here. I think the deposits are calcium deposits from human urine, the stain from the yellow in urine.
nb

posted on April 8, 2013, 7:19 pm
On Monday, April 8, 2013 11:44:11 AM UTC-6, notbob wrote:

Iron-Out works really well. I use it all the time.

posted on April 8, 2013, 11:49 pm
Heavy plastic spoon for scraper? Used, then labelled with magic marker and stored in the shop. . Christopher A. Young Learn more about Jesus www.lds.org . .
Definitely deposits. I got a lot removed with the Polident, but still two heavy deposits. As a goof, I tried lightly scraping with a screwdriver. Chunks of brown deposit broke free! I'll continue along this line, but will try something that won't scratch the porcelain glaze.
nb

posted on April 9, 2013, 1:12 am
wrote:

Glad it is working a little bit for you. In my case we have really hard water with a lot of iron in it. When they changed my well pump, it looked the color of a Home Depot sign. This being said, my stain is in the bottom of the toilet bowl and there still is a little bit there. It accumulated over time. I did not want to put in a real harsh chemical other than the bleach because It is a Kohler toilet that matches the sink and I did not want to mess up the bowl. Lots of good suggestions here.
R

posted on April 8, 2013, 11:25 pm
I would use a hydrochloric acid based toilet bowl cleaner available at any place listed under "Janitorial Equipment & Supplies" in your yellow pages phone book.
For maintaining a clean appearance, then a weaker phosphoric acid toilet bowl cleaner would be all you'd need.
Neither phosphoric acid nor hydrochloric acid will harm glass or porcelain, even at higher concentrations, so if you have muriatic acid, you could try applying it with a Q-trip or nylon bristle paint brush to see how effective it would be. If it works, then use a gelled hydrochloric acid toilet bowl cleaner which will be about 14% hydrochloric acid instead of 26 percent.
posted on April 8, 2013, 11:20 pm

You may want to consider using one of the tablet treatments to prevent it from occurring one you get it clean. We have some made by Clorox that work very well.

posted on April 9, 2013, 12:02 am

Had this problem with my grown son who didn't bother to flush nor clean. Nothing would remove it, so after draining as much water as possible, I poured in about a cup or so of acid pipe cleaner from Home Depot that I had sitting around. When it was poured in it foamed up, got hot, and then I ran an all-plastic scrub brush around in the bowl. The liquid turned dark brown and when I flushed it down it left a clean, stain free toilet.