My sister bought a 1960's house with a crumbling brick wall which I offered to fix for her - so first - I'd like to ask your advice.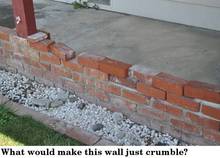 The wall does not appear to be a supporting structure; and for the most part, it appears to be sound - except a section under the porch where the top few layers are crumbling apart.
Two basic question: 1. What would make the wall crumble only in parts? 2. What advice would you give me for a DIY repair?
Note: It's in a liquefaction zone - so I may need to reinforce it.
TIA