snipped-for-privacy@yahoo.com;3043228 Wrote: > I installed the oven on 2x4 runners layed flat on the plywood top that > separated the oven chanber from the cabinet below where the junction box > is. I trilled a hole the diameter of the bx armor to run the oven wire > through to the junction box. (I think the hole was 1 1/8. Is there any > problem running the bx armor cable throught he plywood like that?
I don't see a problem with that. In my building, the armored cable to my stoves comes out of a hole about that size in the floor. Those cables used to be hard wired to the terminal blocks of my old stoves, but when I replaced the stoves with ones with self cleaning ovens, I installed range cords on each stove.
snipped-for-privacy@yahoo.com;3043228 Wrote: >
> inches from the top of the 2x4 runner. It is attached well and a rght > angle clamp is used for the oven cable to junction box connection. I was > a little confused becasue the directions say to use 2x4 runners or if a > solid bottom is used, cut a 6x10 hole int he bottom. I did not cut a > hole but used the runners..
I expect the reason they suggested the large rectangular hole is because most people would not have hard wired their oven to the junction box like you did. Most would have used a range cord and receptacle instead; like this:
[image: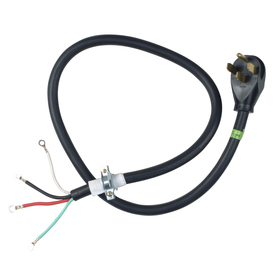 http://images.lowes.com/product/converted/050946/050946110066lg.jpg
]
[image:
http://www.hammerzone.com/archives/elect/appliances/range1/cord/elrgpc18a.jpg
]
You can buy both the range cord and the receptacle at any hardware store. You wire the receptacle into the junction box and the range cord to the terminal block of the oven, and then just plug the oven in to the receptacle very much like plugging in a TV set; only a bigger plug and a bigger receptacle. That way, taking the oven out (for repairs or whatever) is much easier.
The plug on a range cord is considerably larger than the plug on a 120 VAC appliance, and so you do need a larger opening for the plug to pass through, but even 4 inches square should be ample. I expect they suggested a 6 by 10 inch opening so that the entire receptacle can go through the hole if necessary, but I don't see where you'd ever need to do that in your case.
snipped-for-privacy@yahoo.com;3043228 Wrote: >
That sounds reasonable. A heating element is a resistor, so you can say:
Watts = Volts X Amps. If you have 240 volts and 40 amp breakers, that gives you 9600 watts, which provides all the power the oven needs with a 50% safety factor which is reasonable. Even if you only had 30 amp breakers, you'd still have 7200 watts available to the stove and it's convenience outlets, if any.
snipped-for-privacy@yahoo.com;3043228 Wrote: >
> the breaker with a smaller breaker? What would be the appropriate size?
I expect they're 40 amp breakers meant for an apartment size stove.
There are different sizes of electric stoves. A standard residential stove is 30 inches wide and will be rated at 50 amps. An apartment size stove will be 24 inches wide and rated at 40 amps. But, because the NEC doesn't have a prong and receptacle configuration for 240 volts and 40 amps, you use the same 240 Volt 50 amp rated cord and receptacle for both a residential size stove and an apartment size stove. So, if you decide to install a range cord on your wall oven, it'll be rated for 50 amps too. If you live in a condo that used to be an apartment block, I expect that's why they provided 50 amp wiring to the stove location, but only 40 amp breakers in the panel. They did that in my building, too.
I personally don't see any problem going down to 30 amp breakers cuz they would provide you with approximately 7200 watts of power, which is way more than you need, even with convenience outlets on the wall oven where you could be plugging in power pigs like a toaster, electric kettle or coffee maker or even a microwave oven.
> ground.
You should really change that if you can. Apparantly, because of a shortage of copper during WWII, they allowed that in the US electrical code at the time, but you really should connect the white wire of your cable to the middle screw of the terminal block in the oven and connect the armored cable or the aluminum strip or any ground wire inside the cable to the chassis of the wall oven to make a separate ground connection. Or, at least that's my understanding of how it would be done. I'll let any electricians in here chime in on that one. I've heard that they make kits of some sort that you can buy at applaince parts stores in the US to change that wiring to a separate neutral and ground wire connections, so you may want to ask about that at your local appliance parts store.
I don't think that was ever done in Canada, and I've never seen that on any of the electric stoves I've ever had to work on.
I've never heard of an arc fault breaker, so that question is above my pay grade.