On Wed, 15 May 2013 15:07:26 -0700, snipped-for-privacy@optonline.net wrote:
It turned out to be even worse than you said.
Apparently the one-piece straight-through half-inch ends that I bought from Home Depot won't work on the motor end because they actually
*screw*
onto the conduit!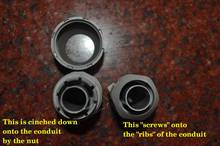 In fact, the Ace Hardware guy was amazed that they weren't two pieces, and he kept trying to take it apart!
His two-piece connector has a nut that holds it onto the conduit, just like the old elbow had.
However, the one-piece Home Depot connector actually, somehow, grabs onto the "ribs" of the conduit, to screw on tightly (patent pending I'm sure).
If I used the one-piece connector on the conduit end by the motor, it would make spinning off that connector impossible without spinning the motor or conduit itself!
And that's the whole problem I'm trying to avoid!