On Wed, 15 May 2013 07:36:49 -0400, John Grabowski wrote:
LESSON LEARNED:
The old cable clearly says it's 1/2 inch cable on it, had I only looked!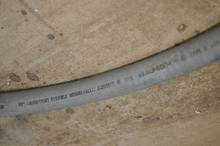 In hindsight, I was lulled into complacency because I could easily measure the fat end of the original elbow at an exact 1 inch, so, it seemed so natural that the conduit was one inch that I didn't doublecheck.
It was only when the one inch box didn't fit, and the 3/4 inch box didn't fit either, that I took a second look at the problem.
Even then, it's wholly unnatural that both sides of that elbow were actually 1/2 inch connectors!