Over here in the colonies we take that 240v and center tap the transformer so both ungrounded legs are 120v above ground. That still gives us the ability to use 240v equipment but most ends up being 120v. I suppose we can blame Thomas Edison for that. He started a fear campaign against Nick Tesla over AC current, Edison wanted DC and he said AC was more deadly, to the point of electrocuting an elephant along with more than a few condemned prisoners ... all with AC. When he lost the war, the deadly part still stuck and the belief was that 120 would be safer, still leaving the option of having 240v equipment.
It is interesting that you only have 11kva transformers. Typically here, a single home would be on a 25kva, the smallest generally available. Two houses get a 37 and 3 houses would get a 50. That is about the max on a single transformer. Distribution will be 13kv to ground (3 p wye)
This is a 50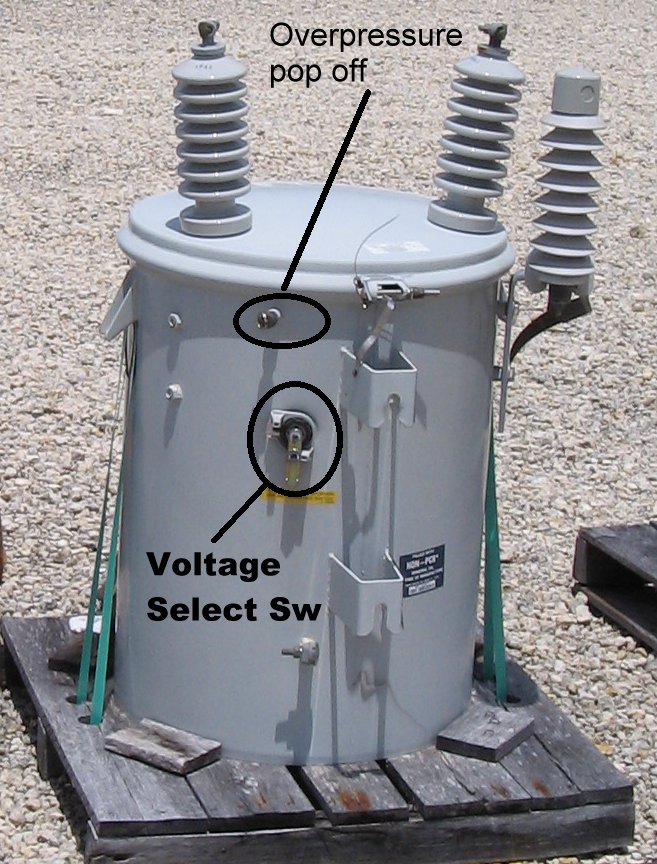 http://gfretwell.com/electrical/50%20KVA%20transformer.jpg
This is the typical installation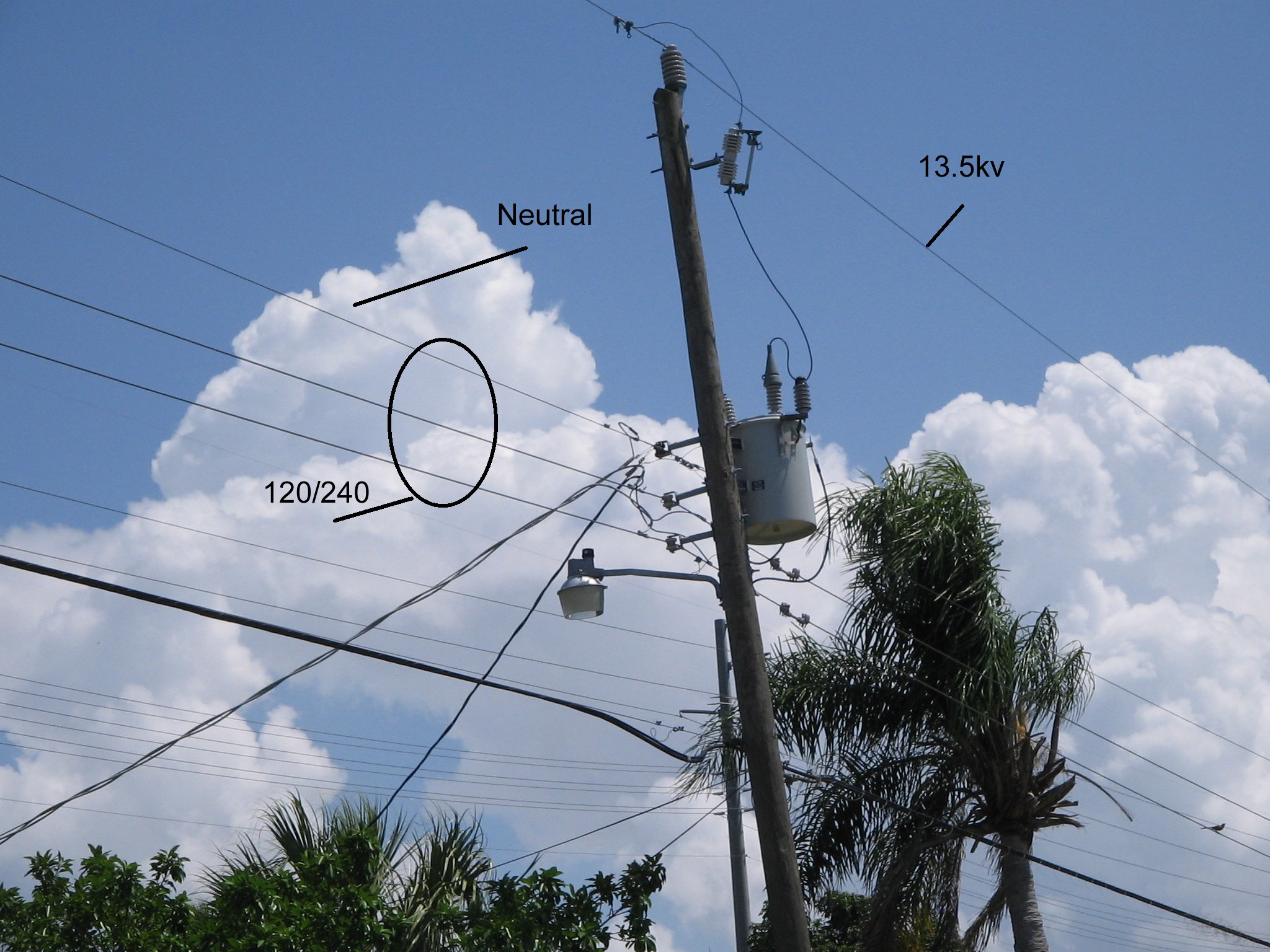 http://gfretwell.com/electrical/transformer.jpg
You can see 2 of the 3 drops going off to the houses
On Saturday, March 5, 2016 at 2:50:39 PM UTC-5, snipped-for-privacy@aol.com wrote:

And those 50's blow up quite spectacularly during ice storms.
5 days without power. Gave me the chance to start the aquarium over from scratch. :-(

posted on March 5, 2016, 9:12 pm
What is an "ice storm"? Is that the same as a "hail storm"? Our transformers never seem to break.
Surely you could have found enough juice to heat an aquarium?
--
We've all heard that a million monkeys banging on a million typewriters will eventually reproduce the works of Shakespeare.
Now, thanks to the Internet, we know this is not true.

Click to see the full signature.
posted on March 6, 2016, 3:27 pm

The ice storm is when the rain fall out of the sky and freezes on the power lines and trees. It can build up to several inches in diameter. Often the ice is more than the tree or some of the big limbs can stand and they break and fall across the power lines. Sometimes could be called freezing rain.
Unlike hail that is already frozen and does not usually stick to the wires and trees. Hail can be large enough to damage things but does not usually take out the power lines.

posted on March 6, 2016, 3:31 pm
That's very odd and seems to be against the laws of physics. If it's below freezing on the branches, how come it's above freezing higher up (where you'd expect it to be colder) causing rain and not hail?
The only time we get too much weight on branches is in colder parts (North Scotland) where SNOW falls on things. Snow has the ability to stick of course, and builds up.
--
FART stands for FAst Repetitive Ticks, and herrings use them to communicate.


posted on March 6, 2016, 4:56 pm

This ice thing happens when the temp is hovering around 0c. the rain mixed with snow (aka the dreaded "sleet and freezing rain") accumulates on ice that is already there and freezes creating another layer. It is just a strange thing that doesn't make as much sense as you would like but seeing a CM coating of ice on anything that it lands on makes it a reality. These things can be quite beautiful until stuff starts breaking. Imagine a forest of trees apparently made of glass. On a full moon night it is breath taking. The biggest part of the electrical problem is the reluctance of northern folks to cut back trees around power lines. Down here in Florida they are very aggressive about eliminating anything growing in the right of way. You really do not own the land in front of your house within about 3m of the road (where the power lines run) and the power company has the power to cut anything that encroaches into that space. They do. People accept it because of the number of wind storms we have. The power companies are really working to get as much as this as they can, underground. Around here, the phone company is already there and my landline is actually more reliable than the cell after a hurricane. I have never lost it in 32 years.

posted on March 6, 2016, 5:28 pm
wrote:

Around here I don't think it is because of the people,but the power company does not want to spend the money to do the cutting. Years ago they used to cut trees all the time, but quit and the trees grew up and the power has been a problem.

posted on March 6, 2016, 11:31 pm
On Sun, 06 Mar 2016 11:56:27 -0500, snipped-for-privacy@aol.com wrote:

Up here in "the north" you don't need trees to take down wires in ice storms. When the wire is 2 1/2 inches in diameter from ice buildup, it doesn't take much to snap the wires (or even the poles if a good wing comes up) One reason much of our "secondary" distribution is underground - along with many of the distribution transformers.