On Fri, 11 Jan 2013 18:28:22 -0800, Oren wrote:
Hi Oren,
I'd consult the manual I had it.
I can, of course, google for it (or something similar), and, I can ask Cosco - I think that's where I bought it - for the company name, but, I didn't try all that hard simply because I 'suspected' I need to drag four hundred feet of garden hose - which - isn't really all that useful.
Plus, I won't be spraying a huge swath, 20 feet to 50 feet deep without the leaves berrys being on the vine, as I'd be wasting my time.
In addition, I DO plan on spraying what I cut as I learned from this thread that I MUST spray within five minutes (before the sap reverses), but, for that, since it was just cut, I should have access with the hand sprayer.
So, there is no rush on figuring out HOW the sprayer works.
On a different note ... I put the camera strap in the bleach wash: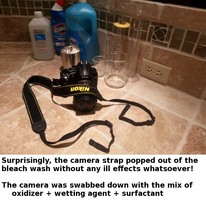 I was surprised. I had expected it to come out WHITE (I used a LOT of pool chlorine - which is double strength of normal chlorine).
That strap came out better than new.
In addition, the camera is now fully swabbed down with the 1:1:1 mixture of oxidizer + wetting agent + surfactant ... so let's hope the wife & kids don't come down with the itchies in the next week!