posted on May 8, 2013, 3:36 am
Three times in the past three years I've bought a complete set of rubber foot protectors for the wooden chairs that are slid day in and day out on the tile floors.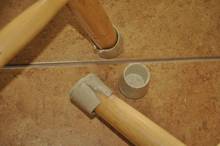 I first bought the dark brown rubber chair leg protectors from Home Depot; then the black protectors at Lowes; and finally the cream colored rubber chair leg protectors at ACE Hardware.
They all crack and simply fall apart.
Do they make a rubber chair leg protector that won't fall apart in a year? Where can I get them?