On Wed, 08 May 2013 17:49:34 +0200, nestork wrote:

Interesting way to say it.
I did read not to put chicken, pork, beef, shells, etc. in the compost, but, for the life of me, I can't figure out why.
I understand your analogy - but I wonder if it applies. I mean, what are eggshells anyway? They're just calcium carbonate, right? Must dissolve in the soil, right?
And, what are fish skins? They're just scales (keratin?) and slippery fat. Why wouldn't bacteria love eating that stuff?
Same with orange peels. They fall on the ground all the time from a wild orange tree, right? They must go somewhere or they would just pile up until they covered the tree (since they don't blow away in the wind).
In summary, I have heard these admonitions - but I've never seen a decent believable explanation of why it would be bad for compost.

one word... pathogens, some say the reason for the human population explosion is due more to sanitation than anything else.. but that's like saying what was the most important factor in winning a war. keep googling, energy cycle, nitrogen cycle, food chain, food cycle.. when you get all done, dig a hole and bury it and run the kitchen water out in the yard. There is a reason the grass is greener over the lateral lines of a septic tank system. a starter,... http://www.fao.org/docrep/003/X9199E/X9199E04.htm

posted on May 9, 2013, 5:36 pm
On Wed, 08 May 2013 18:50:17 -0500, Fat-Dumb and Happy

Water.


posted on May 16, 2013, 12:51 am
On Wed, 08 May 2013 18:50:17 -0500, Fat-Dumb and Happy wrote:
After googling, as suggested, I decided to experiment adding that new liquid element into the compost: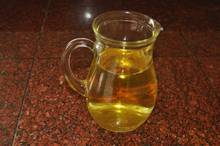 posted on May 16, 2013, 1:01 am
Danny D said

I apply such liquid after dark - when I take the dogs out for a wee.
The wife is none the wiser.

posted on May 16, 2013, 4:03 am
On Thu, 16 May 2013 01:01:29 +0000, DirtBag wrote:

I'm sure mine wouldn't use the compost ... if she knew.

posted on May 9, 2013, 1:20 am
Do some Google searches. Putting meat into compost isn't really a good idea. Use Google to understand the issues. I think you're asking for trouble.
posted on May 9, 2013, 11:18 am
On Wed, 08 May 2013 21:20:51 -0400, Dan Espen wrote:

Googling, all I can find is that it's a "pest magnet", which is no big deal since I live in the mountains anyway and since it's fenced in.
Before I fenced it in, something (probably a coyote) dug up the ham bones, but nothing has been digging there other than the vultures and other birds since I fenced it in.
Seems to me pests are no big deal; they're part of nature, which is what composting is all about.
BTW, while googling for why meats are deprecated, I found this article: http://weblife.org/humanure/chapter3_11.html
Which insists the 'secret' is the aeration which can come about if I build air spaces into the pile by heaping straw or other course material.
So that's one improvement on my technique that I will attempt as I won't be physically 'turning' the compost anytime soon ...

posted on May 9, 2013, 11:50 am
On Thu, 09 May 2013 11:18:39 +0000, Danny D wrote:

Actually, there are three supposed problems with composting cooked meat: 1. It reputedly attracts pests 2. It purportedly stinks 3. It supposedly changes the chemical balance
Reading on, I find all compost attracts pests and mine certainly doesn't stink, and ground up bones and blood is often used in commercial fertilizer, so, all three reputed reasons can be argued either way.
For me, I'll continue to compost everything from the kitchen, until, and unless a real problem actually arises from doing so ...

posted on May 9, 2013, 1:30 pm
First the background. our town encourages everyone to compost:)
Last year the neighborhood had a rat problem:(
I was contacted by allegheny county because I have a compost pile. I was ordered to remove it.
Now my compost pile is strictly 100% yard waste only!!!
grass, twigs branches leaves etc etc.....
I got very upset and refered the county gal who was nice, to our community and asked WHY one encourages composting while the other orders they be removed?
the pest management guy at allegheny county was abusive and obnixious. I suggested to the county gal her boss should watch his attitude, lest the media get involved. How that jerk treated me would get him fired.....
I locked out my caller ID and left a message for the jerk, Your treatment of people who call you looking for help is terrible, and abusive. the media has been informed you are being monitored. You have a good job dont get fired!!

posted on May 9, 2013, 2:48 pm
You should have found mention of anaerobic bacteria and bad smells.
If you really think you need to compost meat, you should be burying deeper. You may not have pests yet, but rats are going to be attracted and digging a foot down should be no problem for a rat.
For above ground compost, I throw leaves and other plant waste on the pile, wait a year, then sift the result. Sometimes I wait 2 years.
A far cry from your daily watering routine. I can't imagine spending that kind of time on compost. I admire your energy but don't see the point.
posted on May 9, 2013, 5:11 pm
On Thu, 09 May 2013 10:48:54 -0400, Dan Espen wrote:

In a later post, I did mention the three reputed issues with meat that I had found by googling: 1. Pests <== it attracts them (but I live in the scrub anyway) 2. Smells <== it stinks (but mine doesn't but it's a dry environment here) 3. Chemistry <== unstated problems (but I'd have no obvious way to tell)

For some reason, I'm not sure what the fuss is about a bunch of animals who are already running wild every day in the chaparral.
A coyote can easily dig a foot down - and this place is teaming with them, as evidenced by the howls at night and the scat droppings at their latrines, which existed long before I arrived, and which will be here long after I'm gone. If I attract coyotes or rats, I don't really see the problem since they live here anyway and they must be eating something day in and day out - as my puny compost wouldn't keep these animals alive all by itself.
So, I'll keep the meat proscription in mind; but for now, I'll continue on the path of all table scraps, until/unless something goes wrong.
Note: The last compost method had daily doses of urine dumped in it and *that* stunk like a bathroom in NYC; so I discontinued that particular practice of adding nitrogen.

posted on May 9, 2013, 5:20 pm
Feed those wild animals and find out what the fuss is.
Coyotes probably not an issue. Rats, are an issue. Feed a family of rats and find out how many you will have in 2 years.
posted on May 9, 2013, 6:17 pm
On Thu, 09 May 2013 13:20:49 -0400, Dan Espen wrote:
I do appreciate the admonition, as experience trumps guessing.
I do have rats, although I just did a check of my traps for you just now, and the only thing I found was a live lizard in the furnace closet that I had to shoo out to keep it away from the peanut butter in the otherwise empty traps.
BTW, if my lessons learned are of any use, these traps that I inherited from the previous owner are nearly useless: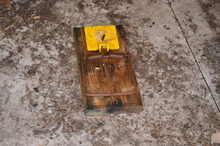 That yellow plastic trigger has far too many false snaps, especially while setting them (I've caught my finger more than once in the damn things).
These all-steel trap mechanisms are much better (IMHO):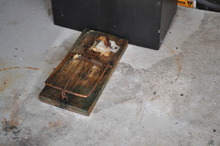 They have a much more securely held trigger that is much easier to set. If I ever buy new rat traps (the previous owner had dozens of them around the house), it's gonna be no plastic for me! Lesson learned.
posted on May 9, 2013, 3:56 pm
Danny D;3059362 Wrote:
Danny:
Here's an easy way to turn and aerate your compost:
[image:
http://conflictedracer.files.wordpress.com/2011/05/compost-barrel.jpg
]
Whomever made that appears to have just drilled holes in the side of the barrel and cut between those holes on three sides to make a crude "door".
If I was doing it, I would have drilled smaller holes, marked between the holes by snapping short chaulk lines, and then before making any cuts with a jig saw, I would have marked and drilled holes for mounting a hinge and hasp.
I'd drill the hinge and hasp holes and cut the lines between the corners. Then I'd mount the hinge and hasp with stainless steel rivens and stainless steel flat washers.
That way, you could pad lock the hasp closed to prevent animals from getting at the rotting meat inside. (But, I expect a grizzly would just consider that a challenge and knock that barrel around all day long trying to get at what's inside, cuz it smells edible.)
posted on May 9, 2013, 5:15 pm
On Thu, 09 May 2013 17:56:30 +0200, nestork wrote:

I had to laugh when I saw that! It's ugly - but ingenious!

I do live in California, the bear state; but I think the biggest predator we have out here are the mountain lions.