On Sun, 12 May 2013 12:46:22 -0500, dpb wrote:
Tonight, I was working on the pool equipment after dark, about a dozen feet from the compost area, when I see this cute rat walking calmly along the pool plumbing.
I couldn't snap a picture quickly enough, but I did set out two traps and continued working on the pipes under the light of the moon, although one of the traps got the better of my finger in the process: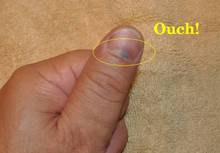 Anyway, I wasn't back working on the wires, only two feet away, for more than five minutes, when I heard the tell-tale snap.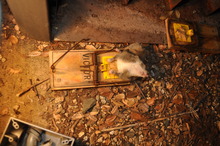 The rat died immediately as I was there within a couple of seconds and it wasn't moving at all, as I gently removed it and set it aside to see if it was breathing: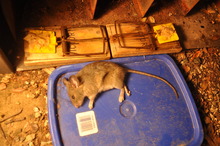 I felt really badly for the little guy, but I can't have them chewing on the wires in the heater (which might be why the heater isn't working).
Can't prove it was eating the compost or not - but it could have been, as it was a small one, that could easily get inside the wire mesh fence.
On Fri, 17 May 2013 09:27:18 +0000, Danny D. wrote:

Looks like it was identified elsewhere as a (big) deer mouse.

posted on May 17, 2013, 8:27 pm
Danny D. wrote:
1 down .. probably a large family to go ..
posted on May 12, 2013, 5:51 pm
R> On Wed, 08 May 2013 17:44:04 -0400, Norminn wrote:
While discussing compost piles, I thought you might appreciate a real compost pile: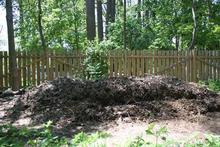 The fence is 6ft high. Last years leaves are compacted and partly broken down.
posted on May 13, 2013, 12:11 am
On Sun, 12 May 2013 13:51:11 -0400, Dan Espen wrote:

Wow. I wish I had that much compost!

posted on May 13, 2013, 12:36 am
Only if you really like exercise.
1 years leaves pile up much higher than that.
posted on May 13, 2013, 3:30 am
On Sun, 12 May 2013 20:36:40 -0400, Dan Espen wrote:

I have a lot of Spanish & Scotch Broom, which I pull out (Scotch Broom) by the hundreds, and I cut & glyphosate (Spanish Broom) by the scores; but I don't want to compost that so I put them in the green recycling bins.
It takes a few months because each bin only holds about an hour's worth of cuttings; yet I generally cut for four or five hours at a time.
But, other than that, I don't have compost since I'm in a windy location exposed to the Pacific Ocean winds, which do all my leaf raking for me during the winter storms!
:)
Of course, it all ends up in the pool ... :(

posted on May 13, 2013, 9:00 pm
On Sunday, May 12, 2013 8:30:06 PM UTC-7, Danny D wrote:

Maybe I did the wrong thing...but...a few years ago I dismantled my compost and sold it on Craigs List. I hadn't really been keeping it up properly anyway. So when the City announced that they were now accepting food waste to incorporate into their (quarterly give-away compost events), I decided to go with that. I was surprised when the hand-out said that meat,fat,bones, etc. could be included, but when I called, they said that the compost was produced at such high temperatures that the no-no stuff was rendered harmless.
It's actually a nice community event; people line up in their cars with their bags, pails, other containers. When you get to the head of the line, you climb into a huge "bin" full of this lovely powdery compost, break out your shovel and load up.

posted on May 13, 2013, 11:42 pm
Dan Espen said

Wow, the wife would never tolerate that pile. I had to pitch a fit to get two 4" square bins accepted. :-)

posted on May 14, 2013, 12:47 am
The pile isn't visible from the rest of the yard.
You can't make compost in 4 inch bins. Well you can, but you can turn the compost over with a teaspoon.
posted on May 14, 2013, 1:18 am
Dan Espen wrote:

It wouldn't get very hot would it.
D