posted on January 10, 2013, 7:58 am
On Thu, 10 Jan 2013 02:21:57 -0500, Wes Groleau wrote:
Botanically, a pristine plant has cell walls, and these cell walls keep the urushiol-laced sap from being on the outside of the roots, vines, stems, leaves, flowers, and berries of Toxicodendron diversilobum.
However, in nature, a pristine plant would be hard to find, so, I don't doubt one bit that there may be oils on the OUTSIDE of the plant!
For a graphic example, look at this picture of me holding a Pacific Poison Oak plant that I just cut with a chain saw.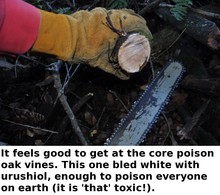 Clearly the oils are on the outside of this (brutally damaged) plant!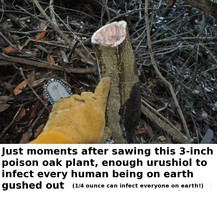 It turns out it doesn't take all that much to damage a cell wall, so, I don't doubt that urushiol sap would be on the OUTSIDE of a (damaged) plant. Here, for example, is a shot from yesterday where I circled all the obvious areas where the urushiol-laced sap bled from the vine: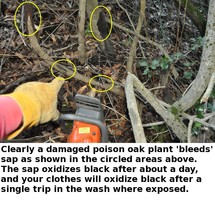 Given that a pin head worth of urushiol can infect 500 people, and that a quarter ounce of the stuff can infect every human on earth (REF: http://poisonivy.aesir.com/view/fastfacts.html )
I wonder what the CONCENTRATION of urushiol is in the dripping sap in my photos (because I clearly was exposed yesterday to a thousand times what it takes to infect everyone on earth).