posted on January 12, 2013, 3:07 am
On Fri, 11 Jan 2013 13:45:35 -0500, Stormin Mormon wrote:
Hi Stormin Mormon,
I like that sentiment. Duplicate others' success and not failures!
That's apropos because many people just dive in, and that duplicates the failures, and few report back the successes so others can follow.
Yeah. One thing I learned by doing is that Nikon camera straps are STRONG!
Look at this picture: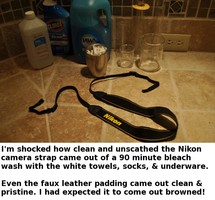 That camera strap was just washed with the whites (socks, underwear, towels, sheets, etc.) for a 90 minute hot wash with the bleach dispenser filled with 12% pool chlorine (that's twice the strength of household bleach).
I had fullyy expected the camera strap to turn white (or brown), and for the faux leather to peel off - but it all looks like it's brand new!
Who would have thought that the Nikon camera strap was that hardy!