On Tue, 08 Jan 2013 23:58:18 -0500, Wes Groleau wrote:
Hi Wes,
That is an interesting story - but I would caution anyone from actually touching the stuff because of the classic YMMV difference in every situation.
The funny thing about invisible toxins is that we really don't know exactly where the stuff is, and where it isn't.
For example, look at my red sweatshirt & TIG welding gloves today: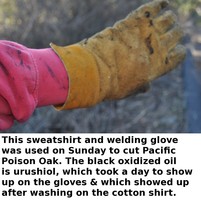 Notice I had no idea exactly WHERE the urushiol was, on Sunday, when I last wore them, but today, two days later, the oil on the gloves was sufficiently oxidized black to see it and the shirt oils were oxidized in the washing machine.
The point is - you never know if you've been truly exposed or not, as it's a statistical thing. So, a LOT of people conclude they were exposed and didn't get the rash - when - in reality - they just weren't exposed (or not exposed to enough to make black marks all over their clothes).
When I was in graduate school, I worked part time in a lab, and you'd be amazed at the strangest places we found P32 with the geiger counter. You can't see it - and when you find out where it got - you sit there and ponder how the hell did it get there.
Now, maybe the goats milk matters - because the immune system DOES work the way you said it does (i.e., when exposed at the right time in the immune system development, the immune system learns what is body and what is foreign) - so I am NOT saying you're wrong ... I'm just cautioning anyone from actually touching the stuff with bare hands on purpose!
:)
Urushiol is no different. You didn't get it from "the air". You touched something that had a pinprick drop of oil on it. What you touched could have been 'anything' (remember, the oil is known to remain infectious for 100 years ... in a laboratory drawer anyway).
The other thing to remember is that the oil is NOT on the outside of the plant. Not outside the leaves, stem, berries, or root. But it's inside all of them, so, you (and I) can pick it up (gingerly) and nothing bad will happen.
But, when you do this ... now you've gotten that damn plant mad! :)