On Mon, 19 Nov 2012 12:51:20 -0600, G. Morgan wrote:
I think you're right. A garage door isn't so simple anymore.
Dan at DDM Garage Doors says my real problem is that the cable drum ends do not have the end bearing plate securely fixed. He's gonna send me some angle iron and 7/16ths head 3-inch lag screws to secure the sides.
He says the middle can't move unless the sides let it move. I'm still trying to understand that - as it's not intuitive at all to me that the ends are what is making the middle bend.
Here is a picture of the gap on one end: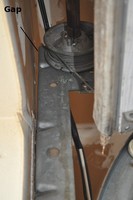 And, here's a picture of the gap on the other end: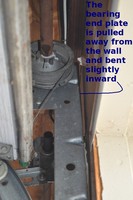 Unfortunately, there is NO STUD beneath those ends!