posted on November 4, 2012, 1:14 am
My wife heard a big snap, and when I looked, I see what happened: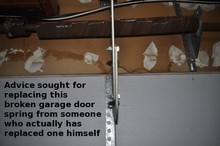 I counted 111 coils of what seems to be 1/4 inch steel, with a set length of 28.5 inches (but a broken untensioned total spring length of 26.75 inches).
Any suggestions for how to locate & install a new spring will be welcome.
I'm sure most will say "just pay someone" (i.e, too dangerous, too difficult, too expensive, etc.); but that's not what this group is about.
I'll research what I can and report back but if you've actually done it (I realize most people have NOT) ... it would be useful to get your advice.
Note: I realize a torsion garage door spring DIY endeavor is like DIY car alignment or like putting in automotive struts where most of the people say it's just not worth it but almost all of those who say it's not worth it actually have never even thought about what it really takes - nor have they tried - and neither have they actually done it. So, their advice, while well meant, is next to useless unless they've actually done it.
What I'm looking for is advice from someone who actually replaced their own garage door torsion spring.
As I said, I'll do some research also - but I figured I'd try to connect with someone who has done this already (I already know what all the rest will say).