Jeezus. It's amazing what you need to learn when you DIY!
Here's how I had to determine my "track radius" just now!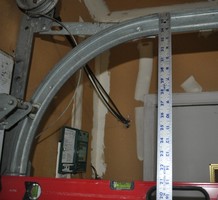 Turns out, my 'track radius' is 15 inches.
It's needed for the spring calculator here: http://ddmgaragedoors.com/springs/standard-torsion-springs.php
To the next person, you will need these SEVEN datapoints: 1. Right hand wound 2. 2" ID 3. 0.243" wire gauge 4. 26.5" spring length (unsprung) 5. 7' door height 6. 4" drum diameter 7. 15" track radius
I entered those seven numbers, and the spring calculator found: NOTHING!
So I changed the 26.5" to 27", and it only found a spring for a 12" track.
(I wonder: Do most of you have 12 inch tracks?)
Luckily, the chart shows "equivalent" springs for a 15" track but I was surprised the original spring doesn't fit a 15" track.
Q: What size track do you have?