On Sun, 04 Nov 2012 01:14:17 +0000, Danny D. wrote:

HERE IS A KNOWLEDGE BASE UPDATE (as promised) for ALT.HOME.REPAIR:
Perhaps the best argument 'for' a DIY repair is that we, the homeowner, should be able to select & install the best spring for our needs at the best price available (about $75 to $100, all told).
For example, my old 15000 cycle torsion spring is $41 at prodoorparts: Garage Door Tension Spring 2" x .234 x 26.5" Right Wind - $40.99
But a 35000 cycle replacement torsion spring is only 20% more at $49: Garage Door Tension Spring 2" x .250 x 36" Right Wind - $48.99
I would think we typical homeowners would opt for the latter, while a (presumably) typical installer would opt for the former (for reasons other than getting us the best spring & best value for our money).
One GREAT argument against a DIY repair is that the job is dangerous. It 'is' dangerous. That's why most homeowners opt to pay about $150 to $200 (out here in the Silicon Valley anyway) to have it done.
Another argument against a DIY repair is the knowledge needed. Luckily, replacing a garage door torsion spring is relatively simple (it has its moment of drama though).
Nowadays, excellent DIYs abound, but the mainstream is what I'll reference here.
The canonical DIY (a must-read novella) is by Richard J. Kinch: http://www.truetex.com/garage.htm
However (IMHO) the 'best' (most informative) site overall is DDM: http://ddmgaragedoors.com
There are other excellent DIY-aware sites which are already listed in this thread so I won't repeat them in this research summary. A second key requirement for a DIY repair is the proper tools. The good news is that there is only one tool needed that a typical homeowner won't already have in his toolbox.
That special tool is a set of ~18" long 1/2" diameter winding bars.
I've found that two winding bars should be around $8 for a set; but many companies charge more than twice that; so here's a link to the company with the most reasonable winding bar prices: http://ddmgaragedoors.com/parts/part/WB-18.html
Apparently these winding bars are often machined with a hexagonal "grip" (reputedly so they don't easily fall out of your hand and/or roll away on the floor) - but the ends are always circular. http://ddmgaragedoors.com/parts/tools_support.html
For commercial you'd use larger and longer winding bars. Residential = 18" long, 1/2" & 7/16" Light commercial = 24" long, 1/2" & 5/8" Heavy commercial = 36" long, 1/2" & 5/8"
Apparently 17" bars are sometimes substituted for 18" bars merely to better accommodate shipping box sizes.
Commercial garage door torsion springs often don't come with the cones but residential torsion springs almost always are sold with the cones already attached.
All you really need is the following information: 1. Inside diameter (always embossed on the end cones, e.g., 2") 2. Untensioned length (you measure only the spring, not the cone) 3. Wire gauge (i.e., the diameter of the wire, e.g., 0.2343") 4. Wind direction (use the tried-and-true right-hand rule) 5. Cone type (most are 'standard' cones but oddballs exist)
There are other specifications which are important but which are not necessary if you're simply replacing a broken spring.
I've found, by calling companies that some "salespeople" will talk 'colors' painted on the springs and cones rather than sizes and duty cycles when asking you for details. My advice is to use paint color only as a doublecheck of your math (e.g., right-wind cones are usually painted red and gold spray on springs is sometimes an indication of the 0.250"wire gauge).
In my research, I found OLD threads where most of the thread was from people saying it couldn't easily and safely be done as a DIY repair. Those older threads imply it must have been harder to come by information, springs, & calculation tools in the past.
But now it's easy to buy a single spring on the web. It's easy to calculate alternative replacement sizes. It's easy to buy the right tools. And, it's easy to find excellent step-by-step DIYs on the web.
My conclusion: Times have changed!
You no longer have to impersonate a licensed technician in order to have a single garage door torsion spring shipped to your home.
For example, here is a typical price list for a wide selection of two inch residential garage door torsion springs to fit my door. (remember to add about 10% CA sales tax & about $20 for shipping). http://www.prodoorparts.com/garage-door-springs/2 /
In summary, I'm looking forward to my spring arriving so that I can attempt my very first garage door torsion spring DIY based on the ample tutorials, suppliers, & videos extant on the web today.


Or more ...
By way of partial proof, here's a 'special' $200 deal for my area: http://www.thegaragedoorstoresanjose.com/GarageDoorSpringReplacement.html "Your garage door is the largest moving object in your house and can be dangerous? Make sure it isn't. When looking for expert garage door repair service in San Jose, Santa Clara, Los Gatos, Campbell, Saratoga, Milpitas, and Sunnyvale; call us today for our $199 spring special! 408-281-7111"
I arbitrarily called about a dozen local (408 area code) garage door repair outfits yesterday to obtain that $150 to $200 price range.
Incidentally, I MUST say, I had the most interested phone call yesterday to "Tiffany" at 408-335-0145 when I was shopping for local repair costs for my research summary to you guys at alt home repair.
That outfit literally called me back twice to get my business!
First, they called back to lower the price of the service call from $50 (just for the estimate) to $30 and to offer to refund that lowered price service call if I got their $150 to $250 service - and then - when I still declined, Tiffany called back today saying the new manager just authorized her to drop the service call fee altogether.
At that point, I 'could' have taken then up on their offer (just to get a more specific estimate for you guys) ... but ... I didn't really want to jerk them around so I politely declined (but thanked them nonetheless).
I mention this because many people reading this will want to have someone do the work for them - so it's good to know you still 'can' get a free estimate in the Silicon Valley (but only if you play their game).

posted on November 10, 2012, 5:37 pm
On Sat, 10 Nov 2012 15:54:12 +0000 (UTC), "Danny D."

Thanks for all the garage door spring info. Nice job. Around here - north of Chicago suburbs - it seems most home repair contractors do free estimates. In fact, they PAY to give estimates if they use a referral service like Service Magic. They have mixed views about Service Magic, and so do I. It does save the home owner time in finding contractors. But in talking to some of the contractors, it works like this. If they get the job, the SM referral fee is nothing to them, as it gets paid out of job profit. If they don't, some resent the fee, others just see it as a business cost. There's other issues I don't mention now. Anyway, although it probably pays to check around and get multiple estimates, damn if I don't nearly always end up hiring the first guy out. Maybe I've just been lucky, but it's worked out well. More likely the first guy out is a hustler, does the most work, runs his business the best, and can offer a good cost for good work. Just guessing, but it seems to generally work that way. Five out of six of the last jobs I contracted went to the first bidder. Keeping to garage doors, I was expecting to pay about $2k for a new steel door - just going by what a workmate paid for a similar one about 5 years ago - but the first guy I called was over here in an hour, and bid $900. He's had a local business with a good rep for a long time. Looked no further. He was slow getting out to do the job, because he was busy. But I told him up front there was no hurry, and do it by his schedule. So $200 for a new spring sounds high to me, but as you say, you live where you live.

posted on November 10, 2012, 6:24 pm
Vic Smith wrote:

Must have been a nice insulated door. In Houston I'll (well, used to before I got out of the business) install a 16 x 7 non-insulated door complete with take-down and haul-off for about $500.
Our cost on the door is $300. It takes about 1.5 hours to do, and the dump charges $30 to drop off the "dead door".
I'm not up to date on current prices, but I'm sure they have not changed much with the ads I see.

posted on November 10, 2012, 7:23 pm
On Sat, 10 Nov 2012 12:24:59 -0600, G. Morgan

That's my size - 4 panel - but his garage is attached so he probably got insulated. Pretty sure he got windows too. Might have an 18'. Mine is plain-jane but much better looking than the old wood one. I think I priced a similar door at about $400 at the big box when I was thinking about doing it myself. Then add the opener.

About the time the 2-man crew took. I was glad to see that old door hauled away on top of their van. Right there is what tipped the scale for me early about doing it myself. Getting old.

I'll never know, but no complaints from me. Heh, just had a visitor. His dad paid $700 for a door at the big box with 1/2" foam. Put it up himself. 4 times.

posted on November 10, 2012, 7:42 pm
posted on November 10, 2012, 7:56 pm
Vic Smith wrote:

FYI - we call them "sections". A panel is where you would cut out for a window. ;-)

posted on November 14, 2012, 4:46 am
UPDATE: I replaced the hinges without drama.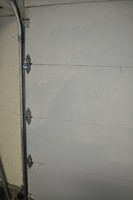 I was confused whether the stamped number should go upward or downward but this DIY implies the slot goes upward: http://ddmgaragedoors.com/diy-instructions/middle-roller-hinge-replacement.php
That DIY doesn't say why, but it does say this: "The two ends of the hinge have holes for the lag screws. The end with a slot in the hinge must be on top, while the end with just a hole must be on the bottom."
That means the numbers should be upside down. (Which means the prior installer goofed again!)
posted on November 14, 2012, 7:48 am
Danny D. wrote:
The numbers do NOT go upside down.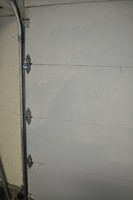 You put the rollers in the wrong slot dude. The rollers go in the bottom slot, numbers should be readable without standing on your head.
posted on November 14, 2012, 1:33 pm
On Wed, 14 Nov 2012 01:48:34 -0600, G. Morgan wrote:
Here is a picture of the new #3 hinge mounted on the left side of the door: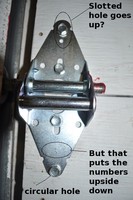 And here is a full-size picture where you can see exactly what is: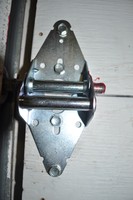 The previous (plastic) hinge had the roller in the lower slot, so that's why I put the roller in the lower slot. I see that's a mistake (I wonder what the difference is) - and I hesitate to retension sheet-metal screws but I think I must change that as you said.
However, this DIY says the slotted hole needs to go on top - but that would (counterintuitively) put the numbers upside down: http://ddmgaragedoors.com/diy-instructions/middle-roller-hinge-replacement.php
I do agree that it's not logical for the number to be mounted upside down, so I'm confused about the direction of the hinge mounting. The instructions were worthless. I'll snap a photo of them and post so you see what I mean.
posted on November 14, 2012, 3:07 pm
On Wed, 14 Nov 2012 01:48:34 -0600, G. Morgan wrote:

I'm thoroughly confused now that I look again at the instructions that came with the hinges! (see pictures of instructions)
The instructions absolutely have to be WRONG!
NOTE 1: The instructions say to put the roller in the tube furthest from the door, but, the PICTURES in the instructions clearly have the roller in the tube closest to the door!
NOTE 2: The instructions make no mention of mounting orientation, and, worse yet, the diagram omits the assymetry of the hinge. That is, the diagram shows SYMMETRIC hinges! (which is wrong!)
Here are the instructions next to the hinge as I installed it:
Here is the hinge just flipped the other way & the roller moved:
NEITHER WAY fits the instructions!
Here are the instructions verbatim: 1. Close door completely. Keep door closed by fastening "C" Clamps on both the left and right door track against the top side of two rollers. 2. Disconnect power and lifting arm of garage door opener. 3. Unbolt hinge from door. Feed roller into new hinge, but furthest from door. Place wheel of roller into track and fasten hinge to door.
Yet, here is a closeup of the associated DIAGRAM (which directly contradicts the written instructions!)
NOTE: I've scoured the net for DIYs and none of these garage door hinge DIYs mention the hinge orientation! http://www.diygaragerepair.com/How-to-Install-Garage-Door-Rollers-s/193.htm http://www.ehow.com/how_6587952_install-garage-door-hinges.html
When I look at a DIY building a garage door from scratch: http://www.thisoldhouse.com/toh/video/0,,20294087,00.html I can see WHY the hinge needs the slotted hole at top - but that puts the numbers (illogically) upside down then.

posted on November 14, 2012, 5:23 pm
On Wed, 14 Nov 2012 15:07:19 +0000, Danny D. wrote:
UPDATE: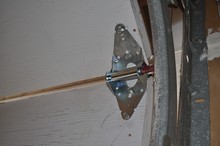 I moved the roller to the tube furthest away on all the #2 and #3 replacement hinges (I had to use larger sheet-metal screws now).
Unfortunately, I have to disregard the package instructions (because they just can't be followed).
1. I put the roller in the tube furthest from the door. 2. I put the hinge with the 2 round holes at the bottom. 3. Therefore the two slotted holes were at the top. 4. This resulted in the numbers reading upside down. 5. Unfortunately, the door now jams at the #3 position!
By that, I mean the door, which worked actually BETTER before I moved the roller to the tube furthest from the door, now it hangs up when the #3 hinge is near the curve at the top.
I have to hit the button twice or three times to get past that tightness at the #3 hinge at the top of the curve.
I don't know what is wrong yet.
posted on November 15, 2012, 8:20 am
Danny D. wrote:

Don't use the operator to test, use you own hands so you can feel where it binds. Chances are the track is not adjusted properly. Can you loosen the track screws and pull the track further from the opening? If not, you can "cheat". Try a #2 hinge in the top section instead. (both sides). The whole point of different hinges should be obvious when you look at the way the track is mounted. It should be so when the door is closed, the roller stems can freely turn by your thumb and forefinger.

posted on November 17, 2012, 7:55 pm
On Thu, 15 Nov 2012 02:20:39 -0600, G. Morgan wrote:
I agree. That's what I did.
I can't disagree. Dan Musick of DDM Garage Doors (800-383-9548) suggested I move the rollers.
I think that's because readjusting the track is problematic.
Yes. But.
If I move the vertical track backward (into the garage), the horizontal track also needs to be moved - and that's a lot of hardware.
Yes. I did cheat. Dan Musick suggested I put the #2 in the #3 position and that I bring down the #3 to the #2 location but switch tubes to the tube closest to the door. That seems to have worked.
I agree. But, it's only obvious that the track pitch is tilted back the same amount that the hinge wedges the door forward AFTER you know that. It's not obvious intuitively (someone must have gotten a patent on that wedging idea!).
THAT's the kind of practical hint we need! I'm not sure HOW to test whether the door is wedged just right. I assumed I should look for a vertical arrangement - but that's hard to measure.
I'm not sure about the test of the spinning wheels. Certainly they should not be too tight - but - if they're loose - how are they wedging anything?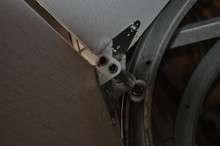 posted on November 17, 2012, 10:56 pm
Update.
In the words of Richard Kinch in his canonical DIY, I installed a torsion spring and lived to tell the tale.
My assessment was that the tools necessary were minimal, and that the effort required was also minimal. Other than the winding of the spring itself, everything was actually trivial. The winding was trivial in terms of effort - but dangerous in terms of cost of mistakes.
Interestingly, the winding force needed was muuuuch less than I was led to believe; I would assess that a normal guy would have no problem winding the 0.250" 36-inch-long spring that I just wound using 1/2" eighteen-inch-long steel bars.
The hardest part was keeping count for 30 quarter turns because I stopped every 10 turns to snap a photo for you guys.
Here's a photo at the zero-turn point. Notice I've lined up the tools I'll need at the 30 turn point (namely a marker, a mallet, & a 3/8" open- end wrench).
Here's what a quarter of a turn does to the white painted line:
Here's a stop at 10 quarter turns (notice the spring grows longer).
At 20 quarter turns, the force is just starting to get strong - but you can rest any time you like as the force holds the 18-inch bars in place:
Lastly, here's the 30 quarter turn mark - where I then marked the nine- foot bar about a quarter inch out, and used the mallet against the 18- inch bar to push the winding cone to that marked point before tightening 3/4 turn with the 3/8" open-end wrench.
I think I wound it about 1/4 turn too much as the door goes up too easily by hand (with the opener disconnected) and will keep moving a foot or so on the upswing - so I'm going to re-adust it by removing 1/4 turn - but other than that, there was none of the drama that makes for a good story.

posted on November 17, 2012, 11:31 pm
On Sat, 17 Nov 2012 22:56:32 +0000, Danny D. wrote:
Two minor problems.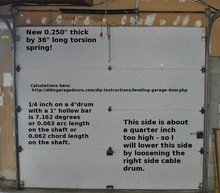 One is that the gap on the right side is about 1/4 inch when the door is closed. This, I think, is because I had left the pickefork in place and didn't realize the implications.
The picklefork, if you remember, was used to raise the 130 pound door to weight it - but I had lazily left the picklefork in place.
So now I'm following these instructions on how to level the door: http://ddmgaragedoors.com/diy-instructions/leveling-garage-door.php
The other problem is the spring is wound about a quarter turn too tighly, so I'll tackle that separately.
posted on November 18, 2012, 12:01 am
On Sat, 17 Nov 2012 22:56:32 +0000 (UTC), "Danny D."

That's where you got dangerous. Leaving an unused winding bar in the collar without holding it The collars aren't infallible. If the winding bar doing the holding broke out or slipped out, anybody in range of the other bar could be in a world of hurt.