posted on November 18, 2012, 12:30 am
On Sat, 17 Nov 2012 18:01:27 -0600, Vic Smith wrote:
I don't disagree. The whole thing does not seem as dangerous as it really is, simply because there is no difficulties. Of course, were something to break or slip - THEN - it would be over in a flash.
The good news is that I just fixed two of the three problems I found after I was done.
1. The door wasn't level (now fixed as per below). 2. The spring was 1/4 turn too tight (now fixed as per below). 3. The bracket is being forced to bend (not good - no solution yet).
1. The door was 1/4 inch too high on the right side (probably due to my mistake of leaving the picklefork under the door) so I lowered it by 1/4 inch by loosening the cable drum as per this wonderful "Leveling Garage Doors" DDM DIY: http://ddmgaragedoors.com/diy-instructions/leveling-garage-door.php
Here is a before and after photo of the door, perfectly leveled now: BEFORE LEVELING: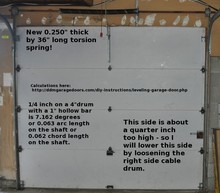 AFTER LEVELING: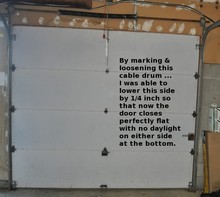 2. The spring was about 1/4 turn too tight as the door was shooting upward at the midway point - even though it stayed at the bottom and middle if you didn't move it. So, I simply unwound the spring by 1/4 turn as shown here: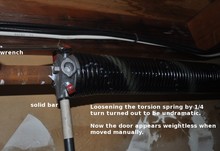 3. The bracket is bending! It's only held in with a single bolt! There is no bushing nor a bearing. It just doesn't look like it's mounted correctly. This is the topic of a more recent thread so I only mention this problem here.
Other than that third problem, which isn't of my making, although I wish I knew to look for it BEFORE the spring broke ... I would consider this, my first torsion spring R&R DIY a success.
Thanks to everyone for your advice & encouragement!