On Mon, 06 May 2013 08:43:58 -0700, Oren wrote:
Mea culpa! My mistake! I should have been clearer. Sorry for the confusion.
Two things I should have made clear earlier: 1. It's (almost) a typical skimmer (the parts are typical) 2. The basket used to fit much better (two years or so ago)
So, I think, the hole has, inexplicably shrunk, by about 1/16 inch, or so.
I ran outside to snap a clarifying picture for you:

Note: While the relevant parts appear to be exactly the same as a "typical' skimmer, one of the two bottom pipes is plugged off - as this skimmer is unfiltered water that is sucked off the top of the pool via a cleaner pump and then it goes right back into the pool unfiltered into the pop-up jets which stir the bottom of the pool.
BTW, the cover also doesn't fit the top of the skimmer anymore; so I think the skimmer hole (somehow) shrunk by 1/16 inch or so.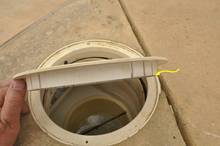 On 5/6/2013 9:29 AM, Danny D wrote:

some plastics absorb water and grow in size.

posted on May 6, 2013, 4:47 pm

Ummm, it appears his problem is the opposite, ie that the cover is too big. So, maybe a little lube of some kind, or else if he has to, maybe grind away a bit of the sides of the cover....
Regarding the rest of the skimmer, I agree that his new pics show a normal skimmer. The only remaining oddity is that there is that open gap around the sides, near the top. Mine doesn't have that, it's continous from top of deck down to the bottom. Looks like something didn't get set at the right height, causing that gap.

posted on May 6, 2013, 5:39 pm
On Mon, 06 May 2013 09:47:44 -0700, snipped-for-privacy@optonline.net wrote:
I'm not sure why a skimmer hole would shrink ... or why the cover would expand ... but one (or both) must have happened.
I surmised the cover needed about 1/32" of an inch or so: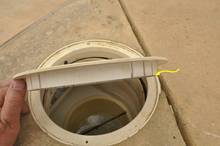 So, I mounted my belt sander in a vise to grind the tip down: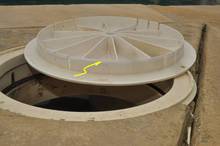 Fits much better now: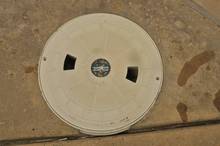 Being my first pool, I must ask: Is this a common problem?
posted on May 6, 2013, 5:42 pm

g basket. He wrote: " Even the cover hurts my fingers just to

Never mind, my mistake. You said silicone lube and I was thinking silicone CAULK.....

ide quoted text -

Uh, oh that's not good. I have some kind of big spiders that like water that show up in the skimmer too.

posted on May 6, 2013, 6:14 pm
On Mon, 06 May 2013 10:35:02 -0700, Oren wrote:
Oh, I'm VERY familiar with black widow spiders!
I seem a big one at least once a week ... and that's without even looking for them.
I just popped the cover off of an electrical connection outdoors for you, and you can see, on the right, a black widow and on the left a wolf spider (the ones with a zillion babies on their backs).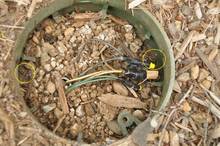 Both, I'm told, can bite nastily.
NOTE: This black widow's hourglass isn't the deep dark red of most of them; but if I opened more covers, I'd find a classic red hourglass (which is hard to photograph since it's on their abdomen so you have to ask them to flip over for you).
posted on May 6, 2013, 5:33 pm
On Mon, 06 May 2013 09:41:21 -0700, Oren wrote:
That's a GREAT idea!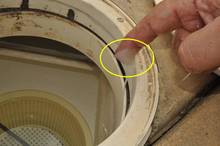 It's not that it 'bothers' me, but, that the cover is so tight now that the kids and wife can't get the darn thing off with their hands.
It used to fit.
But now, I can barely get it off my self - but the net is that we leave the covers off - which is not a good thing when you have the neighbor's kids running around the pool all the time.
posted on May 6, 2013, 4:39 pm
On 5/6/2013 12:13 AM, Danny D wrote:

My guess would be that the basket is made of nylon and expanded. Technically it is due to nylons moisture regain and lowering of the polymers glass transition. If the drain is nylon, same problem.
I worked for a while in an automotive resins group and we knew about this phenomenon. If you made a car door out of nylon, after a while it would not shut because it would grow.

posted on May 6, 2013, 5:46 pm
On Mon, 06 May 2013 12:39:05 -0400, Frank wrote:
OK. That at least makes sense.
If the basket plastic expanded, then the only solution would be to reduce it with muriatic acid! jk
With my belt sander mounted in my vise, I carefully ground off the top lip (about 1/32 of an inch?) at the edge of the basket: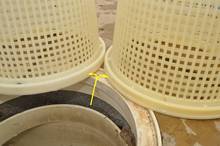 There is now plenty of room for the basket to slip into the hole: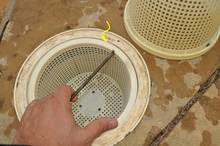 posted on May 6, 2013, 6:06 pm
On 5/6/2013 1:46 PM, Danny D wrote:

That's the obvious solution, to cut it back.
Actually nylon is not soluble in muriatic acid but is soluble in formic acid or dimethylformamide.
I once bought a wall to wall carpet advertised as nylon and after installation took a piece into the lab to check it out and found it was polyester. Got a nice rebate as it was either that or having them out and refund my money. I was working in DuPont's Textile Fibers department at the time.
The same place sold a carpet to another guy in our lab with similar results. It was nylon but not as advertised. He got a big rebate too.
As an old fibers and plastics researcher, I hate to see mislabeling or misuse of polymers. Gives them a bad name. Some people do not know how to design with plastics and account for different weathering effects and the like.

posted on May 6, 2013, 7:03 pm
On Mon, 06 May 2013 14:06:46 -0400, Frank wrote:
What I don't understand is how come they can make a recycling bin that sits outside by the pool in the sun all day without weathering:
Yet, every single piece of plastic or rubber anywhere near the pool turns to dust in a year or two!
For example: - These thermometers are no longer readable; the goggles turn to mush; the plastic baskets crack and crumble; the plastic net support snaps; even the plastic table turns to dust over time.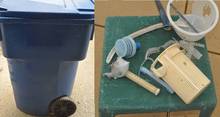 Of course, we should probably replace them every year; but I would rather buy a good one, and not replace it (just like my recycling bin) than have to replace everything plastic every sunny season.
posted on May 6, 2013, 11:14 pm
On 5/6/2013 3:03 PM, Danny D. wrote:

Some plastics like acrylics hold up to sunlight very well but most don't. There are stabilizing additives which usually help. A good manufacturer will do accelerated weathering experiments on his product before he sells it but many don't.
There are also plastics designed to rapidly degrade in sunlight. The plastic rings that hold a 6 pack of beer or soda together are an example. Keeps from littering the landscape with them.

posted on May 6, 2013, 3:48 pm
On Sunday, May 5, 2013 10:12:44 PM UTC-6, Danny D wrote:

You just need to clean it with muriatic acid and get the deposits off of the basket...then it will fit.