On Sat, 17 Nov 2012 12:57:35 -0800, Oren wrote:
Thanks for taking the time to look & write. You're a saint.
Oh oh. I had called up Dan Musick today (800-383-9548) and I told him there was no 'bearing' (but I didn't mention a 'bushing'). He said he's seen 'more' problems from a middle bearing going askew than not having a bearing at all - but now I realize I didn't clarify that I have neither a bearing nor a bushing.
I think it matters because the 9 foot bar actually MOVES!
Yes. Apparently, from my observation anyway - the overdoor bar slides to the right (standing in the center of the garage and looking at a single right wound spring on the left side of center) about an inch as the door goes up (and back to the left as the door goes down).
Here is Dan's torsion spring replacement DIY for a single spring single- spring where he actually mentions the nylon bushing (not the bearing) in step #15: http://ddmgaragedoors.com/diy-instructions/single-tsreplacement.php
Hmmm... I wish I had known enough to look before the spring broke!
Especially when you see these two pictures:
DOOR CLOSED: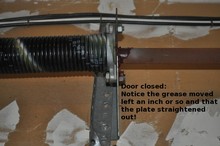 DOOR OPEN: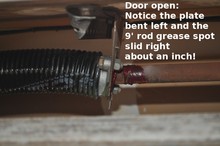 Notice the 9 foot bar seems to be sliding an inch to the right when the door opens (and the bracket is pulled left); and then the 9 foot long bar is slid an inch back to the left (and the bracket centers itself).
I think, over time, this will break the bracket. No?
Do anyone see the same thing with your single-torsion spring door, right hand wound, mounted to the left of center?