On Mon, 19 Nov 2012 12:16:26 -0800, Oren wrote:
Hi Oren,
See this picture which shows the geometries: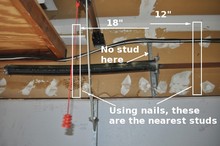 I'd agree with you that moving the spring mount bracket LEFT 18" works best because it leaves room to add a second spring (if needed, later).
Moving the bracket right 12" doesn't allow for the second spring. However, moving the bracket left only leaves me about 8 inches before the spring hits the cable drum. (Keep in mind my new 0.250" spring is 10 inches longer than the old 0.234" spring.)
I wish I knew. As far as I can tell, there is NOTHING behind the sheetrock. I punched fifteen 3-inch long nail holes into the sheetrock and the only thing I ran into was the two studs mentioned above.
There is no header. I would have expected a huge beam above the garage door - but I am strongly suspecting there is a steel beam at the ceiling level instead.
Look at this picture. Look at the very top right of the pic: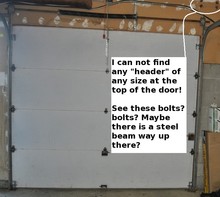 Do you see those four huge nuts? I think that's a beam.
You guys know better than I how they build these things. But it sure looks like there isn't any wooden header!
What do you think those four bolts are way up at the top?