On Sat, 17 Nov 2012 19:17:25 +0000, Danny D. wrote:
I bought some 5/8" nuts and bolted the steel plate to the garage framing so now the garage door is as tight as it will ever get.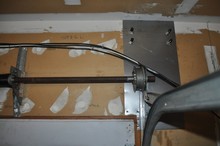 The strange thing was that there was absolutely no substantial wood anywhere near the top of the garage door. Even the lag bolts of the vertical tracks, all of which I had removed when I removed the tracks, were barely holding onto skinny boards of wood.
Clearly the original garage door installers were faced with the same dilemma I was because they left the top three or four holes in the vertical track totally empty. That meant the last foot and a half wasn't secured to anything, and the bottom half was barely connected to flimsy wood. Now it's all tight as a drum!
There is now a center bearing, which, incidentally, is exactly the same make and size as the bearings in each of the bearing end plates.
Thanks for all your help and advice. a) I'm sorry people got angry when I didn't rip open the walls. b) I'm positive there is absolutely no substantial wood anywhere above and to the sides of the doorway. c) Ripping out the walls would have only confirmed what I knew (and what the original installers were faced with).
In the end, I had to decide between what Dan Musick recommended (e.g., steel bracing) and what some of you recommended (e.g., 3/4 inch plywood).
I went with what Dan suggested - and I'm truly sorry I bothered peopile when I didn't rip out the walls as some of you suggested so that's why I went dark when people got irate about that.
I thank you all for your help - and hope that any summary I can give will help the next person faced with the same or similar dilemma.