On Tue, 22 Jan 2013 08:36:19 -0500, Frank wrote:
I never understood WD-40.
But, nobody yet has mentioned that the best way to maintain the garage door opener is to maintain the door itself, such that it isn't an undue load on the opener.
That means lubricate the bearings, the torsion spring (assuming it's the torsion type), and make sure the spring hasn't lost its tension, over time, due to fatigue.
Here's a picture of a friend's bearing, recently gone bad.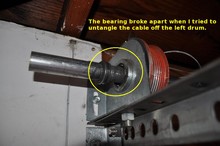 The way I just did that was to paint a solid line on the fully wound spring. If/when that solid line begins to waver, I'll know the spring has lost its tension a bit (which, admittedly, will take years to occur).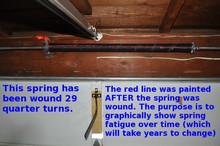 In addition, for noise reasons, lubricate the hinges and roller moving parts and the TOP of the bar on some garage door openers.