On Tue, 22 Jan 2013 08:36:19 -0500, Frank wrote:
I never understood WD-40.
But, nobody yet has mentioned that the best way to maintain the garage door opener is to maintain the door itself, such that it isn't an undue load on the opener.
That means lubricate the bearings, the torsion spring (assuming it's the torsion type), and make sure the spring hasn't lost its tension, over time, due to fatigue.
Here's a picture of a friend's bearing, recently gone bad.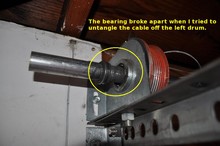 The way I just did that was to paint a solid line on the fully wound spring. If/when that solid line begins to waver, I'll know the spring has lost its tension a bit (which, admittedly, will take years to occur).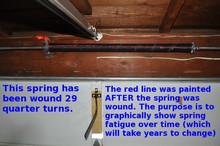 In addition, for noise reasons, lubricate the hinges and roller moving parts and the TOP of the bar on some garage door openers.
On Mon, 28 Jan 2013 09:17:38 +0000 (UTC), "Danny D."

+1 on that. I've seen the look on a friend's face when I opened my 16' wooden door one day when the power was out. 1 finger will do it. ????He says??? "I can barely lift my 8' door."

Don't know torsion springs-- but adjusting the other ones is a piece of cake and worth the 30 minutes you might spend on it.
Check the pulleys- and all the bolts holding the door sections together.
Jim

posted on January 28, 2013, 3:48 pm
wrote:

+2. I just had a new door installed. The installers just counted turns on the springs. Since they seemed to know what they were doing, I didn't butt in. A couple days later I pulled the detach cord to test manual operation. Maybe 40-50 pounds effort needed to lift the door. I'm going to adjust the springs soon.

posted on January 28, 2013, 7:20 pm
wrote:

I'll add that a lot of the garage door openers have plastic gears in the final drive stage to the chain sprocket. They are what usually go first. Keeping the door springs adjusted will help prevent that. You can also put a little grease on the plastic gears occasionally.

posted on January 29, 2013, 12:36 am
On Mon, 28 Jan 2013 11:20:29 -0800 (PST), jamesgang

That's why the plastic gears are there. They're sacrificial gears; easily replaced.