On Fri, 07 Dec 2012 17:23:31 -0800, DD_BobK wrote:
OK. Agreed. The (thin) sheet metal was only on the right side: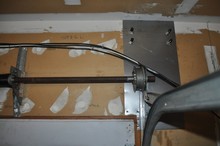 The sheet metal angle was strong thick stuff that Dan Musick had sent me. That angle iron was used to secure the left side cable drums.
Here, for example, is me asking you guys earlier how best to use it: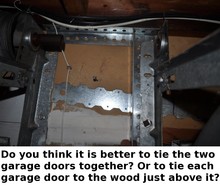 Here is the resulting use along with three Simpson "L" plates: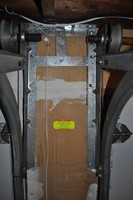 You'll notice there is absolutely no substantial wood anywhere in that picture except(of course) the overhead storage shelf itself.
The first sheet metal angle was lag bolted horizontally to that overhead storage shelf. Everything else was tied to that.
It's hard to see, but on the right side of the picture, the second sheet metal angle is vertically bolted to the horizontal sheet metal angle.
The three Simpson L plates were added to shore up both the vertical sheet metal angle (which had nothing underneath it that was substantial) and to tie in the second (much larger) garage door (which you see to the left in that picture above).
It's ugly. But it's what Dan Musick suggested. And, it's working. (Of course, the old door setup was working also - but this is working better.)
I'm sorry if you don't like the solution. I'm not perfectly happy with it myself; but it's what I came up with given what I had to work with, and, it's better than it was before - and - perhaps most importantly - it should last my lifetime (which is as much as I can ask for it to last).