posted on February 3, 2012, 5:49 am
Here is a picture of my current (lousy) attempt at uniform spacers between flagstones to be set into mortar tomorrow: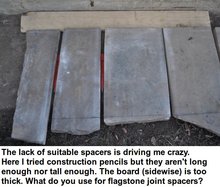 The board in that picture, placed with the tall side up (instead of flat as it is in that picture), is still too thick.
Q: What do YOU use to space flagstone while you're cutting the last piece and when you start mortaring them down?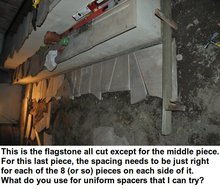 Note: It matters greatly even a little bit because the errors add up over the 20 or so pieces and you're cutting the last (middle) piece to fit.