On Fri, 03 Feb 2012 14:50:41 -0700, chaniarts wrote:
atrium_starting4b_small.jpg>
Ah, I see.
I'm laying flagstone 'as if it were' tile!
Tile = Regular sized, regular pattern, & regular spacing Flagstone = Irregular sized, irregular pattern, and irregular spacing
I bought a another twenty Home Depot pencils to use as spacers for my 'tile-like' flagstone layout.
But what was the ORIGINAL layout?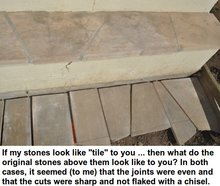 Were they laying that original stuff as flagstone or as tile?