On 4/1/2016 10:39 PM, HerHusband wrote:
Only one box here runs 24/7 -- the DNS/TFTP/font/NFS/NTP/RDBMS/etc. server. It's implemented with one of those FX160's as it sits under my dresser (no display or keyboard; telnet/ssh to it when I need to do maintenance)
My goal is to only run what I need to run based on
*when*
I need to run it. E.g., the answering machine only powers up when the VOIP gateway indicates an incoming call; the irrigation system only powers up when something needs to be watered; the network speakers are only powered on when I need to listen to something, etc.
I have a UPS on each workstation (I think 11, at last count). The switch for the automation system has a pair of SmartUPS 1500's. But, I will replace them with a 48V unit (lets me get more efficiency in the PoE capability as I don't have to develop the 48V just for the switch; let the UPS develop it for the battery pack!)
The alarm system has it's own battery backup (literally a battery as it is PoE powered, as well).
There's no way around needing a switch (wireless is too vulnerable and means you then need to distribute power via some other means -- and back it up in all those locations!). I you put a bunch of PC's in a central closet, then you need a switch to let them talk to each other, etc.
Powering everything from the switch lets me avoid lots of wall warts around the house. And, lets me back up (power) everything from one place. As the switch lets me power down individual "drops", I can scale back the services that I offer during a power outage (i.e., probably not important to water the citrus trees if they
*should*
be watered but power is down).
We have
*no*
storage inside the house -- beyond the bedroom closets, a "guest closet" (that also stores the vacuum and carpet cleaners) and the kitchen pantry and cupboard.
The master bedroom's closets are full of clothing and some artwork (can't store art in the garage!). The office closet is full of test equipment, "supplies", magnetic media, etc. The guest bedroom closet has laptops, A/V equipment (stored), laser/dvd's, etc.
I've commandeered the lowest shelf in the pantry (I never to know whether to call it a pantry or cupboard; it's the larger of these two "kitchen storage spaces") plus the floor beneath that shelf. The UPS's sit on the floor. The VOIP gateway and HDHomeRun boxes connect to antenna and phone feeds that terminate/originate there. All of the network cables terminate on a patch panel -- from which they can be cabled to the network switch that sits there. An SFF PC sits on the shelf with external USB drives tethered to it (to implement the data store for the RDBMS that runs on the PC). There's a 1U console on slides that I can pull out to "talk to" the PC -- and, from there, to the rest of the system: <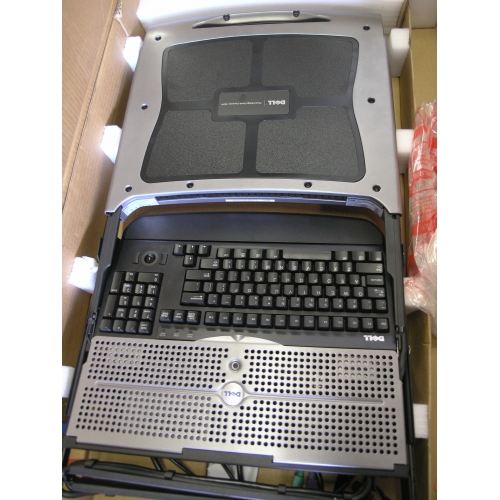 http://www.allsold.ca/image/cache/data/SG//P1017276-500x500.jpg
<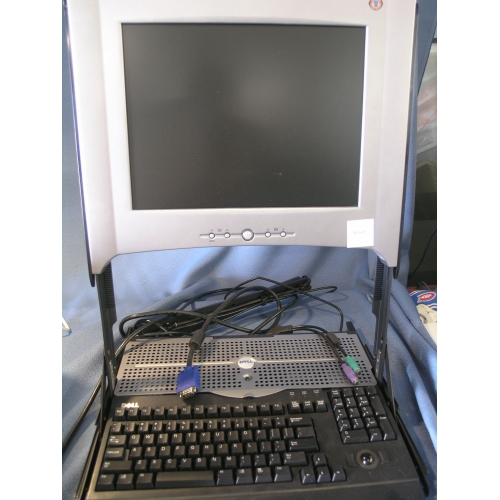 http://www.allsold.ca/image/cache/data/SG//P1017278-500x500.jpg
It's hard to imagine a
*smaller*
/denser implementation!
24 of the ports are "uncommitted". E.g., there are 4 drops in the living room, two in the kitchen (counters), 1 each on the back and front porches, 2 in each of the three bedrooms, 2 in the dining room, 3 in the family room, one in the front hallway (and I'm forgetting a few).
The remaining 48 are wired to bits of technology hidden in the ceilings, walls, etc.: - HVAC & swamp cooler controllers - water, utilities (gas/electric) controllers - 11 security cameras - 10 network speakers (ceiling or high on walls) - laundry, garage door, water heater, landscape lighting - 5 localizer beacons - 2 wireless access points - 2 UPS's - CATV, POTS and DTV interfaces etc.
The drop in the office connects to the (regular) 24 port switch that feeds the machines located there (2 PC workstations, 2 Sun workstations, 2 X-Windows terminals, 2 1U servers, 2 2U servers, SWMBO's computer and laptop, 3 printers, several COTS NAS's, a couple of pieces of test equipment, etc.).
The drop in the guest bedroom talks to the (regular) 16 port switch that handles the multimedia workstation, my DNS/TFTP/etc. box, another printer, a (docked) tablet PC, several FX160's that implement my "custom" NAS, etc.
[I have a LOT of kit! Perhaps you can understand why I am obsessed about hiding any
*other*
kit that the
*house*
might "require"?? :< ]
Ah, but the distributed system
*appears*
as a single cohesive system! It just looks like dozens of "cores". Instead of having all of the field wiring coming to one GIANT multicore machine, the cores are located with the I/O's.
[The "program" that runs the irrigation system does not NEED to run on the node that has the irrigation system I/O's wired to it! The system can dispatch that program to some other node as it deems appropriate (because the irrigation controller might be busy detecting commercials in some video that is being recorded by another processor, somewhere). Likewise, if the system needs more computational resources, it can power up a node that is currently "off" and use it's CPU/memory to address some other task for which it needs resources. When done, it can power that node down to conserve power.]
We don't use a VOIP service. We have POTS service
*to*
the house. We use VOIP
*inside*
the house. I.e., a daemon watches the VOIP gateway for signs of an incoming call. When detected, a task is dispatched (fetched from the RDBMS's persistent store) on a "processor with available resources" that answers the call, decides if it is someone that we want to talk to, decides if we are "available" (i.e., not asleep, in the shower, in the back yard, etc.) and then notifies us of the call -- which we can elect to route to the answering machine, etc.
If, for example,
*I*
am calling, I might want to issue commands to the house ("water the roses", "let me know if I left the garage door open", "give me my messages", "record a message for Bob when he calls, later", etc.). Likewise, if we're out of town and have a neighbor watching the house, they can call and tell the house to perform certain actions (instead of having to come over, let themselves in and tell the house directly).
When walking around the neighborhood, I can carry a cordless phone (NOT a cell phone!) and talk to the house -- or, have the house talk to me ("A package was just delivered for you", "Bob is waiting for you at the front door", etc.)
My machines have lots of I/O's -- tablets, cameras, motion controllers, SCSI peripherals, etc. So, lots of I/O cards in each machine. I run three monitors on each workstation so multiple video cards. etc.
[One reason that I have so many different workstations is due to the number of I/O's that I support; it's just not possible to connect everything to
*one*
machine]
If I leave a workstation on 24/7, it shows up in our electric bill!
I'll
*buy*
a "solution" for lighting. It's just too much work to try to control loads with "custom" hardware. (And, I don't want to be in that market)
I've invested a lot of effort in the system design and the hardware/software implementation. It would be foolish for me to be limited by "a family of four".
As I want to show folks how you can make products accessible, I want to be able to demonstrate that I'm addressing
*big*
projects, not just "token" projects.
I can easily see taking modules from my design and deploying them in an assisted living facility ("help I've fallen", video conferencing so residents can "visit" with their neighbors while otherwise not mobile, local HVAC controls, etc.)
Or, in a business office environment.
Or, in an "institutional" setting (school for blind).
Or, in a hotel.
etc.
Individual modules can stand alone to address particular needs (security system, IP cameras, HVAC controller, irrigation controller, answering machine, etc.). By designing them as appliances (instead of "software running on a PC"), they can be "ported" as-is... no need to redesign "PC hardware and software" to fit in an appliance form factor!
[I have never liked "do overs" in product development. Get it right the first time, then move on to some other challenge. "Version 2" is nothing more than a chore, in my book!]